Consult Dr. Amal M.S, BAMS, YIC, DHY | Sitaram Ayurveda Palakkad Branch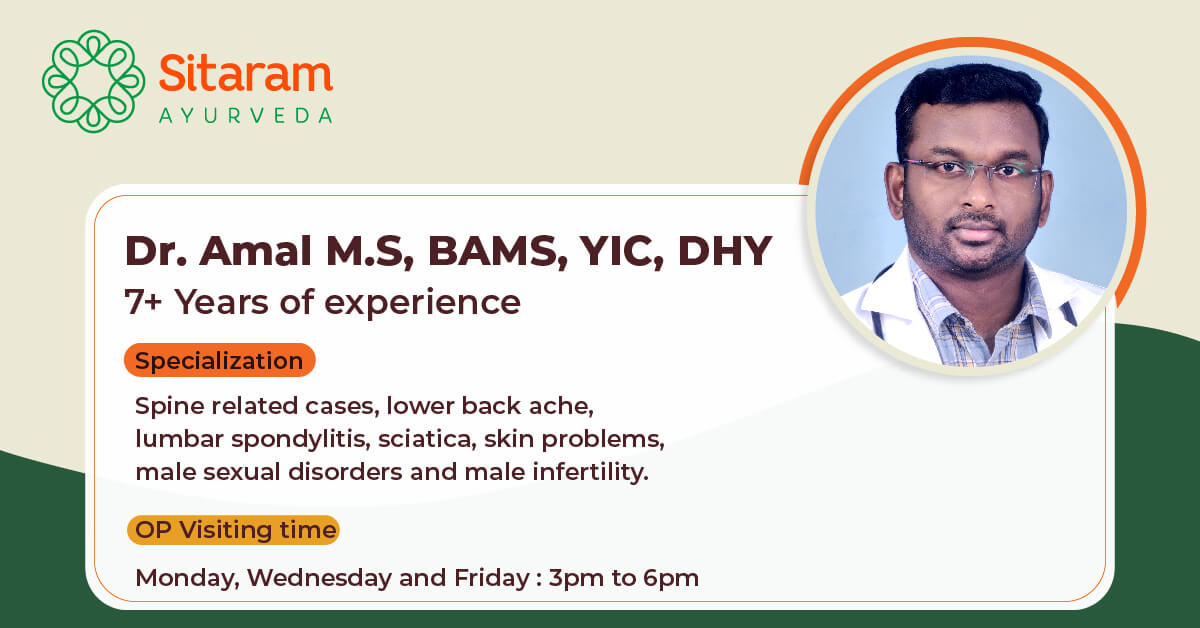 We are glad to inform you that Dr. Amal M.S, BAMS, YIC, DHY will be consulting on Mondays, Wednesdays and Fridays at our Sitaram Ayurveda Branch, Palakkad. He specializes in the treatment of spine-related ailments, lower back aches, lumbar spondylitis, sciatica, skin problems, male sexual disorders and male infertility. He has 7+ years of experience as a consulting physician. Please contact the branch to book your appointment.
Consultation Timings:
Every Monday, Wednesday and Friday – 3.00pm to 6.00pm
Sitaram Ayurveda Palakkad Branch,
Opposite Cable Point,
Coimbatore Road, Palakkad.
Ph: +91 81388 88913,
+91 98957 62413,
0491 2950011,
0491 2547710
Low Back Ache
Low back ache also known as 'Katishoola' in Ayurveda is a very common condition that result from a strain (injury) to muscles or tendons in the back. Other causes may also include arthritis, structural problems and disc injuries. Usually, the pain often gets better with rest, physical therapy and medication.
Low back pain hinders a person's activity, movement, work efficiency and adversely affects the quality of life. Depending upon the symptoms and the intensity, it can be acute or chronic. Acute back pain can last for a few days to a few weeks.
Chronic back ache is identified by a continuous or recurring sharp or dull in the lower back area. The pain can also be followed with burning, tingling, numbness or stiffness in the waist area, hip area and legs.
A persistent lower back pain is generally ignored by the patients in the beginning and tends to go unaddressed as a minor condition. If left untreated over a long period of time, it can lead to a chronic condition. Seeking medical intervention at the earliest in these cases is highly advised.
Common reasons for lower back ache-
Poor posture for long hours.
Little, too much or no exercise and incorrect way of exercise
Injury or strain on the lower back due to lifting heavy objects or bending incorrectly.
Consumption of Vata increasing foods.
Getting exposed to cold.
Inadequate hydration.
Being overweight.
Controlling natural urges like sneezing, urination etc.
Other underlying conditions like constipation, asthma etc.
Unmanaged anxiety, trauma, grief, stress and fear.
It can be challenging to manage work and life with a persistent lower back ache and it is quite a debilitating condition for the person suffering from it.
It is necessary to get the symptoms identified and treatment prescribed by the doctor. We, at Sitaram Ayurveda, with a legacy of over 100 years, can help you manage this condition with expertise.