Affiliate Marketing Program For Partners & Influencers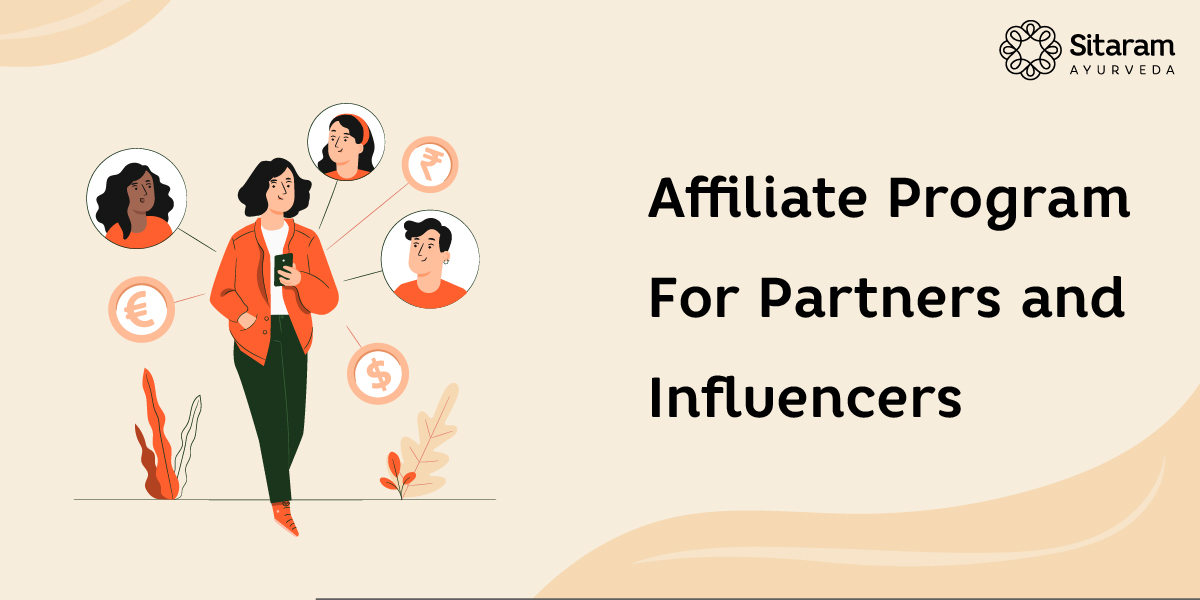 Sitaram Ayurveda invites all social media influencers, content creators & bloggers to participate in our newly launched affiliate marketing program. The affiliate marketing program helps influencers monetize their traffic and maximize their earnings by pitching our renowned and most trusted brand of Ayurvedic products to their audiences.
How does Sitaram Ayurveda's Affiliate Program work?
As a branded social media influencer, you can share our Ayurvedic products with your audience on your social media account/handle. We shall provide customized tools for linking and monetizing the purchases made by the customers through your promotional activities.
Who qualifies to participate in Sitaram Ayurveda's Affiliate Marketing Program?
If you have a credible presence on any of the social platforms like YouTube, Instagram, Facebook, Linkedin etc. and a minimum of 5,000 subscribers/followers on your original social media account, then you are eligible to participate in our affiliate marketing program.
If you are a famous social media influencer in related fields like health, wellness, beauty, Ayurveda etc. then you may be better able to market our Ayurveda range of products as compared to others. This is not a mandatory condition to join our program.
What is the USP of joining hands with Sitaram Ayurveda?
Sitaram Ayurveda (P) Limited has a healing legacy of 100 years. It started in the year 1921 with a vision to help people become their healthiest selves. Sitaram Ayurveda is one of India's best and most trusted Ayurvedic products manufacturers.
Sitaram Ayurveda brings the wisdom and legacy of Ayurveda to the modern man with over 450 classical and patented Ayurveda formulations.
We offer a broad range of superior-quality Ayurvedic products to our customers to select from. Our range of Ayurvedic products includes the following categories- Tablet, Syrup, Choornam, Capsules, Ointment, Pain relief Oil, Other oils, Balm and Chyawanprash, etc
We provide the best quality products to our clients in India as well as overseas.
We offer hundreds of authentic Ayurveda products that are a 100% safe, natural, herbal and vegetarian.
Sitaram Ayurveda is a well-established brand in the Ayurveda industry. We are one of the first Ayurveda companies to receive the Good Manufacturing Practices (GMP) Certification.
We provide effective and prompt communication to our customers. We have a resourceful and efficient team that provides all the required information, product details and paperwork.
Sitaram Ayurveda gives utmost priority to the quality of the products in each step with an ISO 9001:2015 company and DSIR recognized research and development laboratory.
Here are the steps that you need to follow as a social media influencer affiliate marketer:
You need to have a dedicated social following or active online reach
You can send in your interest on the given email address. Once your profile is approved by our marketing team, you will be provided the login credentials for your affiliate account.
On your affiliate account you will be able to monitor the sales.
You will be paid 25% as a commission on the sales made with your account.
Payment settlement by Sitaram Ayurveda is made 30 days after the fulfillment of the order in lumpsum after the 10th of every month to your bank account registered with us.
Sitaram Ayurveda Affiliate Program offers a tremendous opportunity as a social media influencer to upscale your earnings and add credibility to your own branding by promoting our authentic and supreme quality Ayurvedic products. Sign up with us, recommend and share our products and maximize your earnings!
Send your interest to dm@sitaramhealthcare.in.