Exports and international shipping

Sitaram Ayurveda, established in 1921, takes pride in having a legacy of more than 100 years in the field of researching Ayurvedic medicines, undertaking extensive studies to improve the efficacy of medicines and reaching out to patients all over the world. Our highly valued relationships are built on years of trust. We also take immense pride in serving our customers throughout the globe.
We have been exporting medicines to our valuable customers in the United States of America, Germany, Malaysia, Thailand, Poland, Canada, Azerbaijan and many more countries.
Keeping the customer's requirement in mind, we do not require a minimum amount to place an order with us. We also provide private label/contract manufacturing of Ayurvedic medicines and products.
Our logistics team enjoys a very good network both nationally and internationally. Our warehousing and distribution team ensures that the best quality of our material is maintained and it reaches the customers on time.
As our esteemed customer, you enjoy these benefits by buying directly from us:
We provide you multiple product options to choose from.
You can buy our products in bulk.
Our pricing is cost effective.
We provide effective and prompt communication to our clients.
We have a quick and clear buying process.
Our customers get the best purchase experience.
We have a good transport and quality management system in place.
We promptly provide the essential tests and documentation that is required for export to any country throughout the globe. This is done according to the customer's specific requirements.
Currently international orders aren't recognized by the eCommerce module on the website, kindly write to us at support@sitaramayurveda.com with your requirements and address with pincode/zipcode. We will revert back to you within 48 working hours.
Leave a Message
Please feel free to contact me if you need any further information.
Few product categories: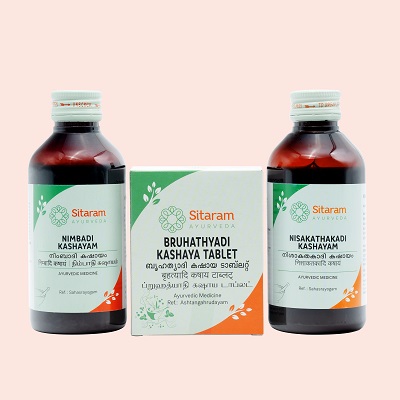 Kashayam & Kashayam Tablets
In Ayurveda, Kashayam is a very well-known and traditional medicinal form. Kashayam, also known as Kashaya, is a commonly used Ayurvedic dosage form that refers to a variety of therapeutic concoctions as a whole rather than a specific Ayurvedic drug. Kashayam refers to a water decoction or water extract of a single herb or group of herbs. Typically, Kashayam is used to treat conditions like indigestion, cough, cold, etc. It contains water-soluble herbs that are simple to absorb in the intestines and offer quick relief. Sitaram Ayurveda has a wide range of Kashayams that can be administered for very specific ailments. We also have Kashayam tablets for most of our Kashayams, as it is easy to consume and portable for long-distance travel.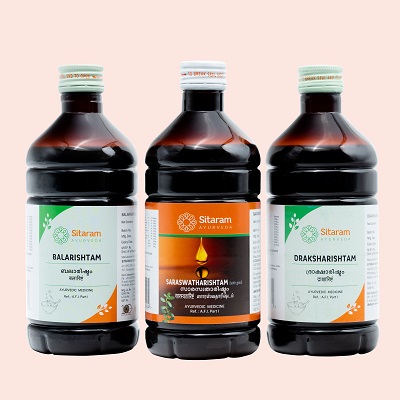 Arishtam
Arishtam is a type of Ayurvedic medicine that is created mostly by fermenting natural herbs. It is advised for many different illnesses and disorders. They are potent herbal mixtures that boost digestion, promote appetite, and remove unwanted waste that has built up in the body. Arishta preparations have a longer shelf life and have no expiry.
We constantly put a premium on producing goods that are both effective and economical, and we have a wide range of Arishta preparations in Sitaram Ayurveda.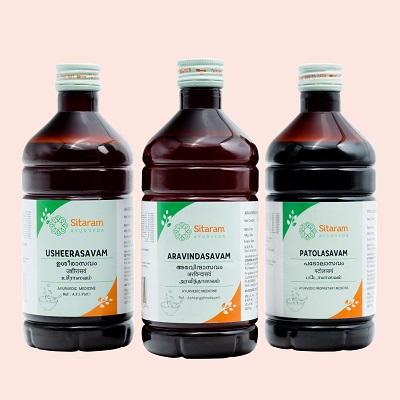 Asavam
Asavam, also known as Asava is a category of Ayurvedic medicine prepared by the fermentation of fresh herbal juices or herbal decoctions. Asavams have a long shelf life and can be safely utilized for a very long time. Sitaram Ayurveda has a wide range of Asavams with high therapeutic efficacy and a very affordable range of prices.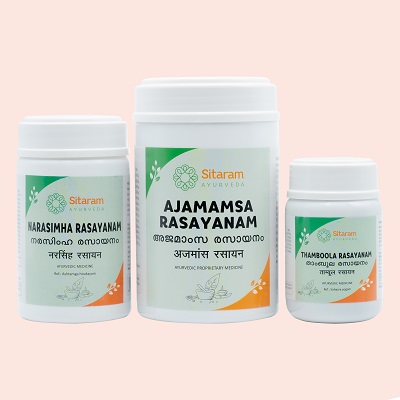 Lehyam
Lehyam, also known as Leham or Avaleha, is an Ayurvedic preparation that is thick, semi-solid resembles syrup, and typically has a sweet flavor. Typically, the Lehyam is a mixture of several herbs, jaggery, and other elements. People of all ages and genders can eat lehyam depending on the individual's dosha and health conditions.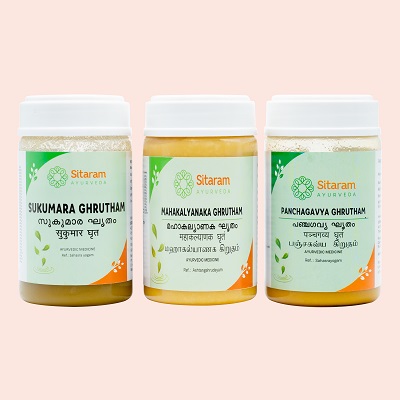 Ghritham
Ghrithams are ghee-based preparations in which the ghee is cooked with therapeutic herbs and kashayams in accordance with the Ayurvedic literatures. The herbs and their qualities are absorbed together with the ghee during this boiling procedure. Later, the mixture is chilled, which causes the ghrita to partially solidify. While some ghritams are used externally and in some panchakarma procedures like vasti, they are often solely prescribed for internal use.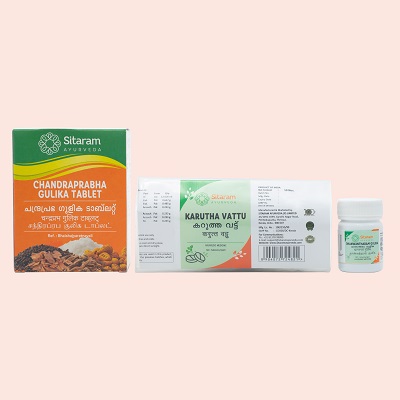 Gulika and Gulika tablets
Gulikas are Ayurvedic medicines prepared in the form of tablets or pills. However, the way they are prepared differs only a little. Herbs and other raw ingredients are ground into a fine paste to create these Gulikas, also known as Gutikas. These are thereafter manually transformed or punched into tablet or pill form. The majority of these Gulika are meant to be taken internally, but several are also meant to be applied topically. We also have Gulika tablets that are easy to consume and machine- made.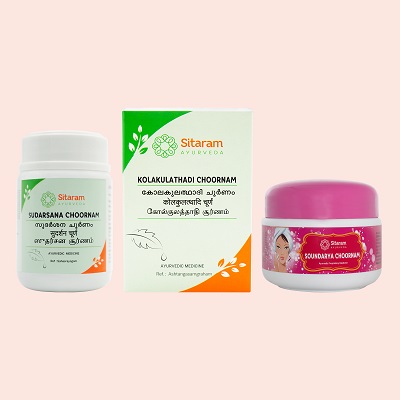 Choornam
Powder medications are called choornams or churnas. These are created either by drying the roots and/or leaves of herbal plants, crushing them, or through boiling them continuously for a long duration and then spray drying them and making churnas. Churnas have a significant impact on the body and are used frequently by Ayurveda practitioners to treat a wide range of illnesses, including chronic conditions. Depending on the condition, choornams can be applied both internally and externally.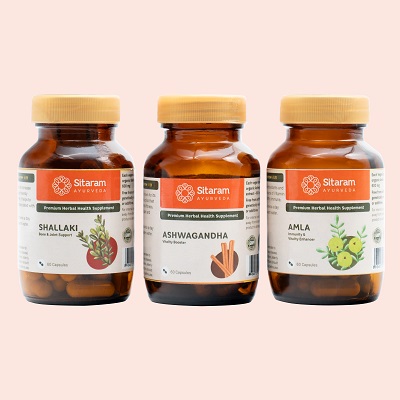 Capsules
Capsules are solid dosage forms that contain a gelatin shell around a medication. Depending on their makeup, the gelatin shell can be either hard or soft. Hardshell capsules are made up of two pieces that snap together to form a closed casing. It is either packed with a liquid drug or a dry medication in the shape of a powder or pellet. They mask the drug's taste and odour.
Thailam
Thailams, which are medicated oils used in the Ayurvedic medical system, are made from herbal decoctions with oil serving as the foundation. These treatments are mostly applied locally to address skin conditions, joint and bone pain, headaches, and issues with the hair and scalp.
At Sitaram Ayurveda, most of the thailams are prepared with gingelly oil or coconut oil as the base along with the decoction and medication pastes combined.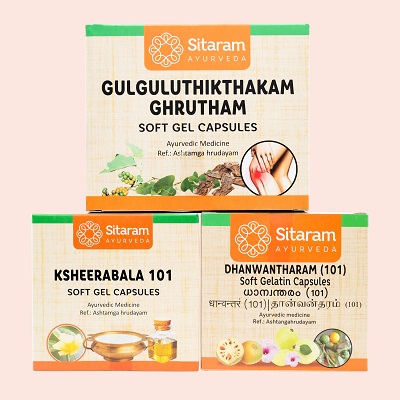 Soft gel capsules
Soft gel capsules are oral dosage form of medicine that consists of a gelatin bases shell surrounding a liquid or semi-solid fill. The soft gel shells are a combination of gelatin, water, opacifier and a plasticizer. In comparison with hard capsules, soft gelatin capsules are thicker and require additional ingredients such as glycerine to obtain their soft texture. Our soft gel capsules have earned great popularity in pharmaceuticals due to its efficacy and high quality.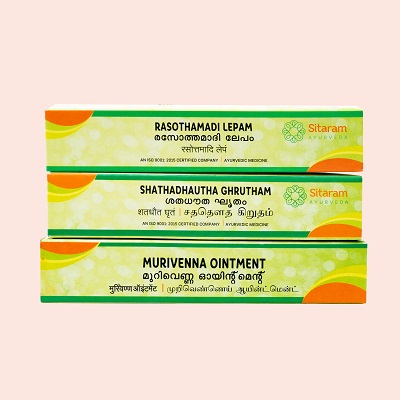 Lepam/ Ointments
Lepam is an Ayurvedic preparation that is known to be helpful in treating a host of skin conditions. They are also resourceful in treating anti-inflammatory conditions and provides good pain relief. The Lepams are made by mixing the herbal powders in a medium, which is usually a herbal oil, milk, rice-washed water or a decoction. Ointments are preparations applied to the skin, eyes, and mucus membranes used as medicines, moisturizers, or cosmetic purposes. They act well on dry skin as they trap moisture and are well absorbed into the skin.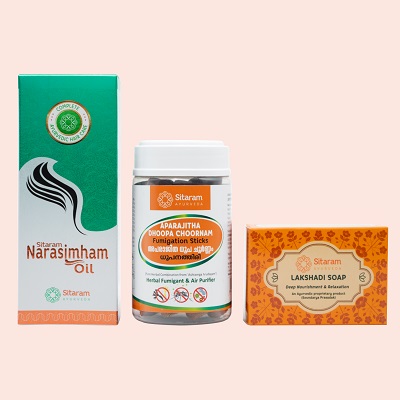 OTC products
Over-the-counter medicines are also known as OTC or non-prescription medicines. We have a wide range of OTC products that have high efficacy as well as standard quality. All the products are clinically tested, safe, and effective when you follow the directions on the label or as directed by the physician.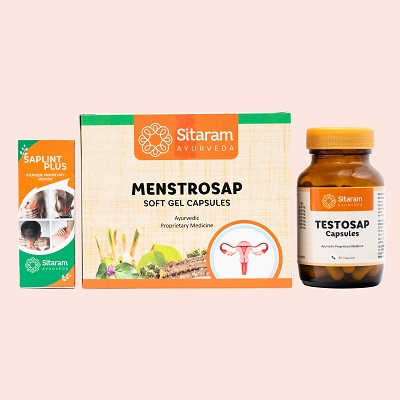 Ethical patents
Ethical patents or proprietary medicines are preparation that are owned and controlled by our own brand Sitaram Ayurveda. Our extensive range of fast-moving ethical patents are curated and manufactured considering all the standard pharmaceutical rules.