Asanaeladi Thailam – An Ayurvedic Remedy for Unhealthy Skin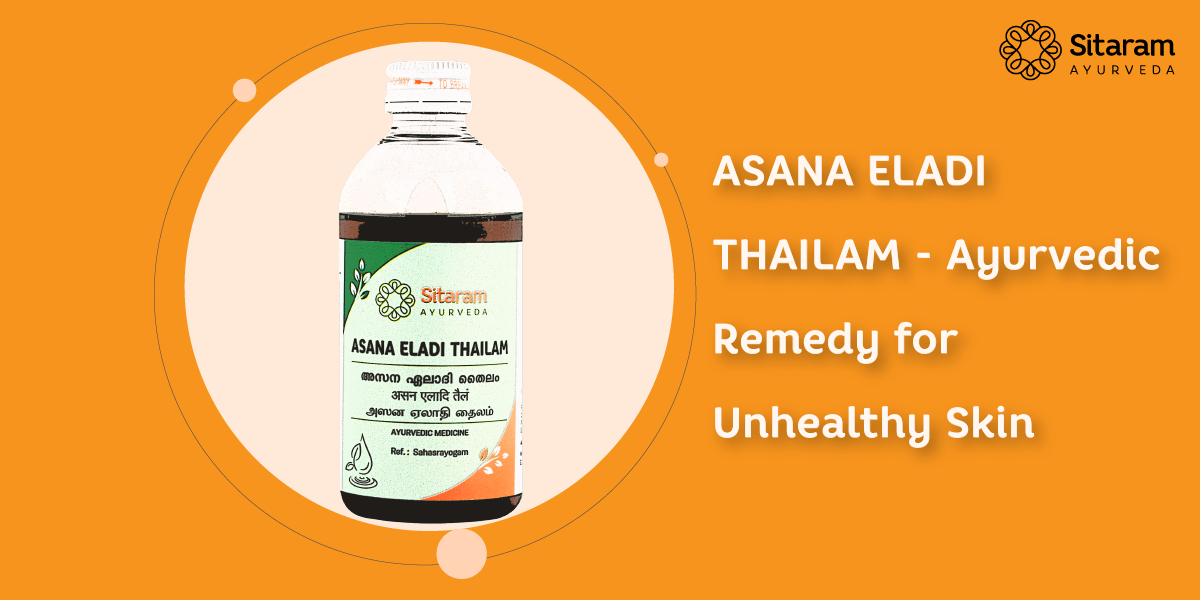 Asanaeladi Thailam is a medicated oil explained in the Ayurvedic text 'Sahasrayoga'.
The main indications of Asanaeladi Thailam include skin diseases like dermatitis, urticaria, skin allergies etc. It is also used as a massage oil to improve skin texture and complexion.
Primary ingredients of Asanaeladi Thailam
Asana (Pterocarpus marsupium)
The plant shows anti-diabetic, anti-inflammatory, antibacterial, and cardiotonic activities.
Bilwam (Aegle marmelos)
Bilwa possesses ant diarrhoeal, antimicrobial, anticancer, ulcer healing, anti-inflammatory, antipyretic properties.
Bala(Sida cordifolia)
Sida cordifolia is a known tonic, astringent, emollient, and aphrodisiac. The drug is a significant ingredient of several formulations in Ayurveda.
Guluchi (Tinospora cordifolia)
The plant show activities like antioxidant, antimicrobial, antitoxic, anti-diabetic, immunomodulatory, hepatoprotective activities.
Ela(Elettaria cardamomum)
Ela has antioxidant, anticancer, cytotoxic, antimicrobial, antibacterial, insecticide activity.
Pushkaramoola (Inula racemosa)
It is an aromatic tonic, febrifuge, carminative and antiseptic.
Brahmi (Bacopa monnieri)
The plant shows memory enhancing, tranquillizing, sedative, antidepressant, anticancer, analgesic effects.
Guggulu (gum resin of Commiphora wightii)
Guggulu shows hypolipidemic, anti-inflammatory, antiarthritic, antioxidant, antimicrobial activities.
Ushira (Vetiveria zizanioides)
The plant possesses properties like anti-inflammatory, antiseptic, calming, sedative, tonic, healing effects etc.
Saffron (Crocus sativus)
Saffron helps to protect the skin from UV rays, reduces inflammation, supports wound healing and reduces hyperpigmentation.
Tila Thailam (Sesame oil)
Sesame is an important source of phytonutrients such as omega-6 fatty acids, flavanoid phenolic anti-oxidants, vitamins, dietary fibre with potential medicinal effects. Sesame oil is composed of fatty acids like linoleic acid, oleic acid, palmitic acid, stearic acid.
Common Skin Problems
Acne (Acne vulgaris)
The term acne includes pimples, blackheads, cysts, and nodules. Acne treatment is essential because if left untreated, it may lead to scars.
Asanaeladi Thailam is prescribed according to the condition of acne.
Atopic dermatitis
Symptoms of atopic dermatitis include dry, scaly and itchy skin gradually leading to the thickened area. It is most common in children.
External application of Asanaeladi Thailam helps to reduce the symptoms.
Hives (Urticaria)
Hives are raised, red, itchy areas over the skin. Common causes are food, medication, bug bites or stings.
Asanaeladi Thailam is good in hives.
Sunburn
Sunburn occurs when there is too much exposure to UV (Ultraviolet) rays from the sun.
The application of Asanaeladi Thailam over the exposed area reduces the pain and hotness.
Contact Dermatitis
Skin allergy evolving as a reaction to something we touch is contact dermatitis. Contact dermatitis is a type of eczema.
Asanaeladi is beneficial in the treatment of contact dermatitis. Try to avoid the things causing eczema-like chemical irritants.
Diaper rash
Application of Asanaeladi Thailam helps to reduce the redness and itching caused due to diaper rash.
Skin allergies
Common symptoms of skin allergy are
Itching
Redness
Swelling
Raised bumps
Skin flaking
Skin cracking
Daily application of Asanaeladi Thailam helps to reduce the symptoms.
Why is skin health important?
Skin health is essential for your good appearance. But above that, skin health is more critical because skin performs many tasks in our body. People care so much for their skin that the cosmetic industry has become one of today's leading industries. Skin problems cause equal if not more psychological issues than physical suffering.
Tip for a healthy skin
Moisturizing: Extremely dry skin and oily skin are harmful to the skin and may cause skin diseases. So moisture your skin daily.
Daily application of medicated oil helps in moisturizing your skin. The selection of the medicated oil depends on the nature of the skin.
Asanaeladi Keram and Asanaeladi Tailam are some of the choices depending on the skin conditions and nature.
Other benefits of Asanaeladi Thailam
Application of the formulation over the head is beneficial in inflammatory conditions of eyes and ears.
Mode of application
Application overhead
External application
Dose
One can estimate sufficient quantity.
Side effects
No side effects reported till now for Asanaeladi Thailam. However, medical advice is suggested before application.
To Buy Asanaeladi Thailam :
https://www.sitaramayurveda.com/product/asana-eladi-thailam/