Dr. G. K. Leela, BAM | Consult Our Specialist In Rheumatic Ailments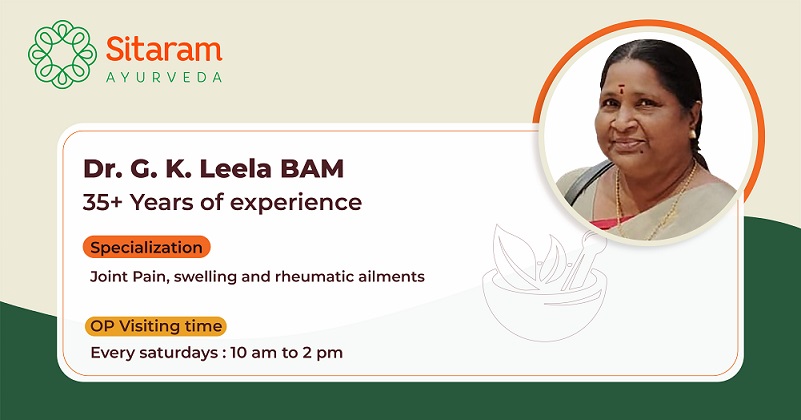 We are happy to inform you that Dr. G. K. Leela, BAM will be consulting on Saturdays at our Round South Clinic, Trichur. She specialises in joint pain, swelling and rheumatic ailments. She has 30+ years of experience as a consultant medical practitioner. Please contact the clinic to book your appointment.
Consultation timings: Saturday, 10:00 am to 2:00 pm
Sitaram Ayurveda Round South Branch 
25/395/7, Pathayapura Building,
Round South, Trichur 1, Kerala
Ph: 0487-2428352
Whatsapp: +91-8138888931
Email:southshop@sitaramayurveda.co.in
Rheumatoid Arthritis
According to Ayurveda, Rheumatoid arthritis is correlated to Ama vata. Due to various etiological factors, the ama (toxins) and Vata get vitiated and combine, travel through the body, and take their abode in the lower part of the spine, joints, stomach, chest, and heart. This further enters the circulatory system and results in the symptoms of ama Vata.
Symptoms of Rheumatoid Arthritis
Tenderness in the joints, especially tiny joints
Swelling in the joints
Stiffness in the joints, which worsens in the morning
Fatigue even without doing any activity
Heaviness in the whole body
Lethargy
Anorexia or tasteless mouth
Burning sensation in the body
Occasional fever or rise of temperature in the affected joints
Poor or loss of appetite
The symptoms first occur in the smaller joints (fingers of hands and toes of feet) and tend to develop to bigger joints. As the disease progresses, symptoms often spread to wrists, knees, ankles, elbows, hips and shoulders.
It is important to get your symptoms assessed, diet customised and initiate a treatment plan for rheumatoid arthritis. We, at Sitaram Ayurveda, with a legacy of over 100 years, can help you manage your illness with expertise.