Kapikachu – Increase Sperm Motility Through Ayurveda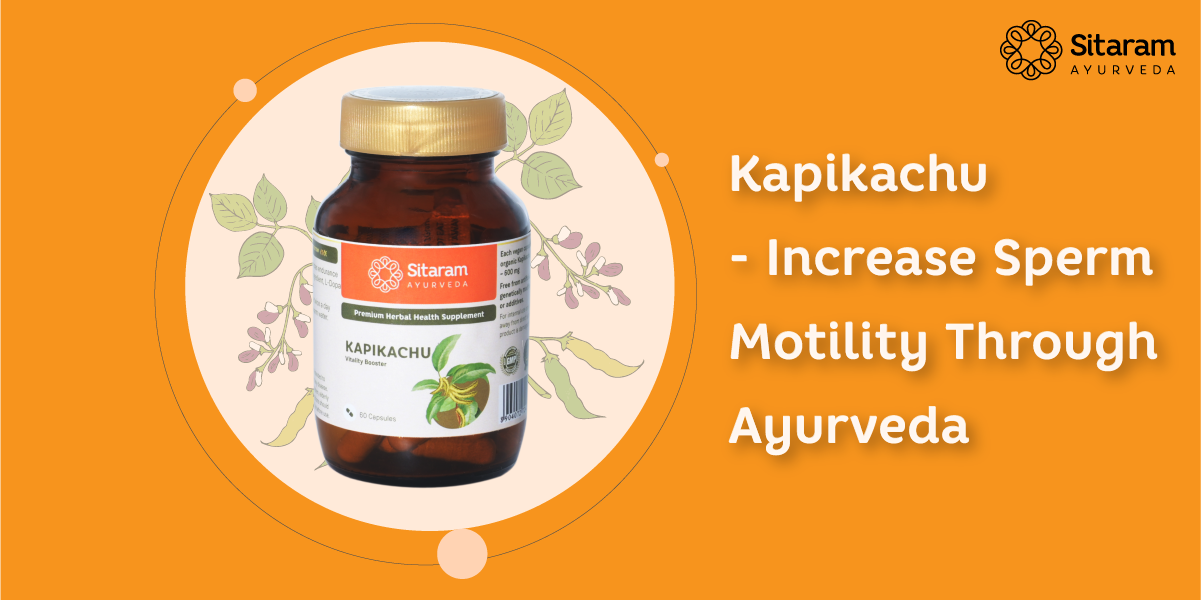 Kapikachu (Cowhage) is a bean-like plant, a tropical legume commonly known as Cow itch or Velvet beans. Parts like beans and seeds are widely used for therapeutic purposes and is a well-known aphrodisiac in Ayurveda. Kapikachu – Mucuna pruriens is commonly known by the name Cowhage is also called Atmagupta in Sanskrit. The drug has Madhura (sweet) and Tikta (bitter) rasa with Ushna veerya (hot potency) and Madhura vipaka (sweet metabolic end effect). Kapikachu is a great way to jump-start a sluggish metabolism while also gently nourishing the body tissues in terms of quantity and quality. It improves mental health and functioning by promoting the healthy activity of neurotransmitters. To an overworked nervous system, the medication is calming and grounded.
AYURVEDIC MAGIC OF SINGLE DRUG BOTTLED UP!
Do you suffer from feeling blue now and then?
Do you miss the energetic and enthusiastic good old days?
Do you feel stressed out day in and day out?
Are you unsatisfied with your sexual life?
Well, SITARAM'S KAPIKACHU is the perfect choice for curing your worries !
KEY FEATURES OF KAPIKACHU :
Ayurvedic medicine to increase sperm count and motility.
Nervine tonic in Ayurveda.
Effectively manages psychological problems and relieves stress.
A natural dopamine booster.
Effectively improve male and female fertility.
Ayurvedic single drug treatment to improve sperm count.
KAPIKACHU ACCORDING TO AYURVEDA
The action on Dosha is marked by its Tridoshahara properties ( balancing Thridoshas) especially its Vata-Pittahara property (pacifying aggravated Pitta and Vata). Rigidity, dryness, roughness, loss of function, and a tingling sensation in the body are all signs of an overactive Vata. The unsteady Vata is grounded and stabilised by Kapikacchu. It calms the nervous system and restores power and vitality. It is also known for imparting strength, nourishment, rejuvenation and improving sexual potency.
SITARAM'S KAPIKACHU
SITARAM brings you the best picked- highly potent Kapikachu after proper filtering and screening tests. SITARAM AYURVEDA aims to give your body the best of nature, without compromising the quality and efficacy of its products processed through classic Ayurveda! Each bottle is enriched with the goodness of high-quality Kapikachu assuring you the blessings of nature with the healing touch of Ayurveda.
WHY KAPIKACHU ?
This Ayurvedic single drug is capable of controlling the Central Nervous System and enhancing the mood by imparting a positive effect. It thereby promotes physical and mental wellbeing.
Kapikachu is an age-old ayurvedic single drug used for increasing Testosterone and Dopamine levels.
This single drug is widely used in treating male and female fertility and sexual problems like low libido, impotence and other dysfunctions.
In males, it improves sperm count, quality and motility. It also effectively treats premature ejaculation.
In females, it stimulates ovulation and improves sexual potency.
Kapikachu is also known for lowering stress by improving relaxation, managing sleep disorders and promoting sharper focus, treating memory loss and lack of concentration.
Kapikachu is widely used in the treatment of Parkinson's Disease as it is a natural Dopamine booster.
Kapikachu is also abundant in carminative, rejuvenating, analgesic and diuretic properties.
WHAT MAKES KAPIKACHU SUPER  ACTIVE?
The active components of Kapikachu include:
L-Dopa
Glutathione
Glycosides
Lecithin
Gallic acid
Prurienine
Nicotine
Alkaloids
Mucunine
Tannic acid
Resin
Lecithin
1) INCREASES TESTOSTERONE AND TREATS LOW LIBIDO
Increased Dopamine from the L Dopa found abundantly in Kapikachu helps in reducing excessive prolactine – a hormone responsible for counteracting the actions of Testosterone which in turn produces sexual desire or libido in both men and women. Kapikachu has exceptional aphrodisiac properties. It boosts both men and women's sexual desire.
2) A NATURAL DOPAMINE BOOSTER
Kapikachu shoots up the production of Dopamine in our body stimulating the production of Human Growth Hormone which triggers protein synthesis and increases muscle growth in the body. Dopamine levels must be kept at a healthy level for smooth sensory function and mental agility. It soothes the senses and helps to alleviate anxiety and stress.
3) STRESS BUSTER AND MEMORY BOOSTER.
The noteworthy active ingredients in Kapikachu has a direct effect on the pineal gland producing Melatonin at a higher rate, lowering stress and inducing sleep. This also helps in improved ability to relax and increases overall mental flexibility.
4) EFFECTIVE SINGLE HERB TREATMENT IN PARKINSON'S DISEASE
In people suffering from Parkinson's disease, the Dopamine from the L Dopa in Kapikachu has been shown to benefit the condition. Dopamine deficiency is met with the Dopamine produced by administering high-quality Kapikachu.
5) TREATING DEPRESSION
The increased production of Dopamine improves and enhances mood as Dopamine – a neurotransmitter with a direct influence on relaxation and attention.
6) IMPROVES FERTILITY
The active ingredients in Kapikachu help in stimulating ovulation in females and sperm count in males. The hormonal shift mechanism imparted by the L Dopa over prolactin and Testosterone also helps in improving sexual desires and reproductive health as well.
7) BOOSTS OVULATION AND ENHANCES OVARIAN HEALTH
It boosts ovulation and enhances ovarian health. Hormonal balance is necessary for ovulation and fertilization to occur on time. Kapikacchu helps women's hormone health by keeping their metabolism on the check.
8) ANTIBACTERIAL AND ANTIFUNGAL ACTION
The ethanol and Methanolic extracts of Kapikachu are shown to have strong antibacterial activity and are effective against a range of bacteria and fungal pathogens.
9) SUPER HERB FOR SKIN
The metabolic extracts of Kapikachu also help in preventing free radical damage and are abundant in antioxidants which helps in protecting the skin from UV rays and associated damage, thereby arresting signs of ageing in the skin.
10) ENHANCES SPERM AND OVUM QUALITY
It enhances the sperm and ovum quality. Its effectiveness in increasing sperm count and motility has been proven in research. It is very efficient in treating infertility caused by poor sperm quality.
HOW TO USE KAPIKACHU ?
Take one Kapikachu capsule twice a day after mealtime along with lukewarm water. It is safe for long term use.
YOUR SAFETY IS OUR PRIORITY
The use of Kapikachu by pregnant women and nursing mothers should be only under medical advice.
Kapikachu can be administered to children only under strict medical supervision and parental care.
 Kapikachu must be cautiously used by people with cardiovascular diseases.
Overdose of Kapikachu can cause nausea, bloating, constipation, vomiting and abnormal body movements.
Nature blesses us with its priceless treasures in every possible way, so does Ayurveda! Shower your body the best in a natural way!
To Buy Kapikachu from Sitaram Ayurveda Visit :