Mruthasanjeevani – Ayurvedic Medicine For Weakness & Appetite Functions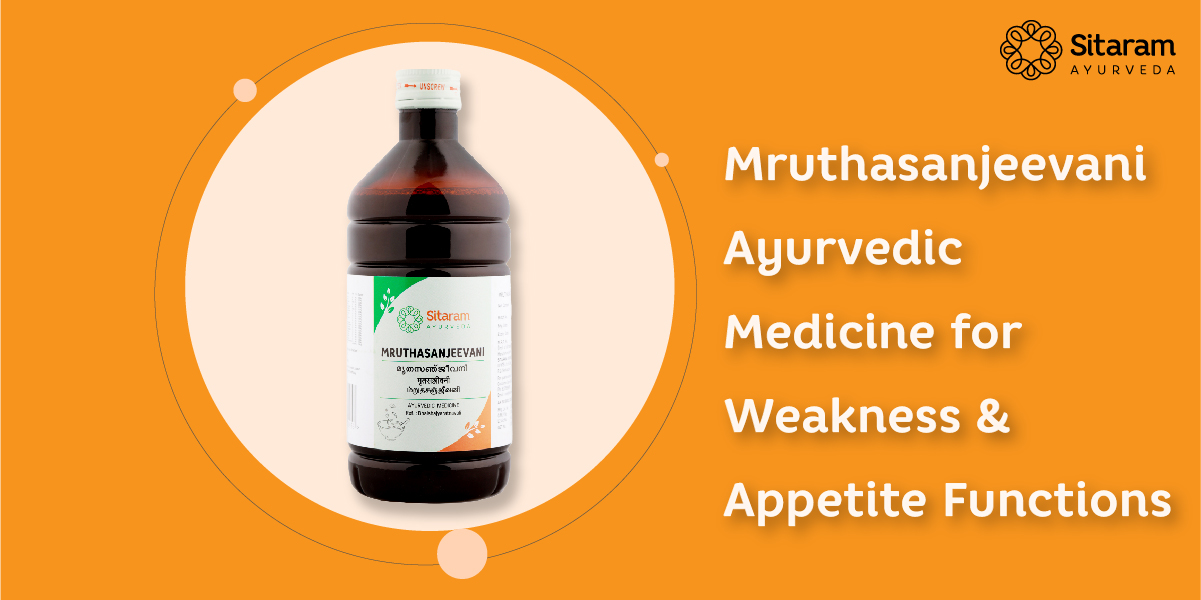 Sitaram's 'Mrithasanjeevani' is the unparalleled combination of revitalizing medications that helps you regain your vim and vigor. The classic formula of Mruthasanjeevani Asava traditional 'asava' combination that can help you break the loops of fevers, fatigue and that constant feeling of abdominal discomfort.!
KEY FEATURES:
Overhauls Vata dosha disparities.
Tones down indigestion issues.
Soothes gut functions.
Attenuates a bloated tummy.
Relieves general fatigue and pain.
Do you get bored of your stomach bloating despite the fact that you didn't eat much earlier in the day? Have you ever felt as if your life was draining from you as if you were approaching a dark place, and that your sicknesses were being lodged in your bones? Have you previously gone on a medical odyssey in search of what can help your body repair and re-establish a healthy metabolism?
So, did you get a chance to try Mrithasanjeevani yet? No..?
If that's the case, then you shouldn't let this gem be out of your reach.!
SITARAM'S MRUTHASANJEEVANI ASAVA
Sitaram's Mruthasanjeevani Asava is the promising combination of 17 potential herbs along with Guda that is powerful enough to heal even the terminally ill. The reason why it got the name 'mritasanjeevani' to begin with. But we may not brush this fact off lightly as the classical ayurvedic preparations never fail to bring their desired effect on our body. So does Sitaram with its proprietary blend of wondrous herbs.!
Mritasanjeevani is an Ayurvedic formulation that comes in liquid form. One that is praised for its ability to bring life back to the most diseased.! It's essentially an Asava recipe meaning that it's an Ayurvedic wine made with self-generated alcohol.! And No..you may not worry about its alcoholic content as the quantity and quality are well tolerated by people.! So worry not.!
THE KERNEL OF HERBS:
GUDA (Jaggery) :
Jaggery is recognized for producing heat and giving the human body that rapid energy rush.! It has a laxative effect and activates digestive enzymes, which helps to prevent constipation. Because of its Ushna (hot) nature, Ayurveda recommends consuming Jaggery every day after meals to aid digestion.
DADIMA (Punica granatum)
The popular fruit of Pomegranate.!
It contains anti-carcinogenic and anti-inflammatory properties that help prevent and treat malignancies as well as other chronic and infectious disorders. Isn't it powerful.? It is a fruit that is highly suggested for people who are anemic as it helps with building up hemoglobin levels as well.!
CHANDANA (Santalum album)
Popularly known as Srigandha. One of the oldest and most valuable natural fragrance sources, having significant medical and commercial value. When used as a paste or oil, it is generally thought to be the most effective cure for headaches. Sandalwood oil inhalation aids in the management of respiratory infections by lowering inflammations along lung airways.
So why not have it in our herbal concoction.?!
AGNIMANTHA (Premna integrifolia)
Agnimantha and its extracts help to improve the appearance and texture of the skin. So yeah, if you need that cosmetic uplift from a broad spectrum medication, this is your call.!
It reduces the appearance of stubborn dark circles, blemishes, those acne scars, skin breakouts and suntans along with other symptoms of aging. Moreover, it gives your skin a natural glow.!
USHIRA (Vetiveria zizanioides)
Haven't we all drunk lime juice and Khas-Khas ?!
This is a well-known cooling agent with a wonderful scent. It's so refreshing to be addicted and also it is good for our tummy issues.! It calms irritated Kapha and Pitta, cleanses the blood, and soothes thirst, weariness, and hot micturition.! Awesome right?!
ATIVISHA (Aconitum heterophyllum)
You Gut Saver.!
Attributing its carminative properties, Ativisha is popular for keeping a healthy digestive system. It helps with diarrhoea since it has antibacterial properties that limit the growth of pathogenic microbes. Its Tikta Rasa (bitter taste) and hence Kapha-balancing characteristics aid in the management of diabetes symptoms and mucus production in addition.
ASHWAGANDHA (Withania somnifera)
Known for its Rasayana (rejuvenating) and Vata balancing qualities. Ashwagandha is believed to help manage difficulties related to stress and anxiety. These qualities may also aid in the control of diabetes and have also shown its potential as a Vajikarana Aushadha for its aphrodisiac properties, which aid in healthy reproductive functions.
PUNARNAVA (Boerhaavia diffusa)
Your liver guard.!
Punarnava is a powerful ayurvedic herb that has been used to cure a variety of health problems since ancient times. Punarnava has potent analgesic and anti-inflammatory qualities, making it particularly useful for reducing joint and muscle pain and thereby lowering the risk of chronic autoimmune inflammatory illnesses such as rheumatoid arthritis. It curbs Vata and finds a safe place for Pitta dosha, ensuring wellness and health.
DEVADARU (Cedrus deodara)
Antibacterial, antifungal, and anti-inflammatory in action!
In neurological problems including asthma, pruritus, or infected wounds, Himalayan cedar is extremely beneficial more than we could imagine. Devadaru can also help with headaches and arthritis. The sesquiterpenoids a- and ß- himachalenes are found in abundance in deodar oil, helping with Vata's pacifying action.
VILVA (Aegle marmelos)
The Bael tree, also known as Bilva, is the sacred medicinal tree placed as one of the Dashamoola (a ten-root family) herbs of Ayurveda. Belpatra is reported to have anti-inflammatory effects and can be used to quickly relieve any inflamed area. It is Tridosha-Hara in its pharmacological action and is claimed to contain antifungal and antiviral effects. As a result, it is used to treat a variety of illnesses in the human body as well.
ERANDA (Ricinus communis)
This one comes to our users through each and every part. Be it leaf or shoot or root.! The amazing herb is at our service. Castor seeds and seed oil have been used to treat rheumatism, worm infestation, and gastrointestinal ailments since time immemorial and is unimaginably effective in calming skin ailments.
SHYONAKA (Oroxylum indicum)
Your First aid for wounds.!
It cleanses wounds, detoxifies the blood, and aids in a speedier recovery. No worries..your injuries are safe in Shyonaka's hands.!
GAMBARI (Gmelina arborea)
It is one of the dashamoola roots that decreases inflammation and helps wound healing. The powerful antioxidant capabilities aid in blood cleaning and the removal of dullness and wrinkles on the skin.
PATALA (Stereospermum suaveolens)
The herb has a strong blood purification effect. It also relieves pain and burning sensations heals burns and wounds, and decreases blisters.
BRIHATI (Solanum indicum)
Brihati, is your Vata streamliner.! It sets this humor of motions in the right paths and ensures the body's normal biological functions. It nourishes and rejuvenates the skin as an additional benefit while treating many sorts of skin diseases.
SHALAPARNI (Desmodium gangeticum)
The potential extract relieves redness, irritation, and dryness. It is Vata and Pitta pacifying and is effective in treating allergic disorders and skin infections. This prickly dried fruit of the gokshura tree is an excellent skin emollient that cures skin infections and inflammatory problems. It also aids in the treatment of aging indications such as wrinkles, fine lines, and dark circles, as well as providing smooth, radiant, and reinvigorated skin.
So much in a single fruit.!
KANTAKARI (Solanum virginianum)
This herb's Kusthahara characteristic is helpful in treating skin problems, aids in wound healing, and boosts skin health.! The herb also acts as a carminative, making it easier to treat gastrointestinal issues. This means it has a stronghold over your Vata dosha.!
GOKSHURA (Tribulus terrestris)
An excellent skin emollient that helps to heal skin diseases and inflammation.!!. It also aids in the treatment of wrinkles, fine lines, dark circles, and other indications of aging, as well as providing smooth, radiant, rejuvenated skin. It's used in Ayurvedic medicine to keep kidney and urine processes running smoothly and alleviate renal discomfort. It stimulates urine flow and cools and soothes urinary tract membranes, making it beneficial in treating urinary tract problems.
Now you can choose the best herbal formulation for your maximum benefit.!
Seems like a good reason why Mrithasanjeevani is a go-to option for you.!
And here is what more of you need to know.!
VATA DOSHA FOR SMOOTH METABOLISM
Have you ever thought of what makes your intestines all work up? Why do you hear those ramblings from inside of your stomach? If you ask the timeless science of Ayurveda, we tell you, it's the Vata dosha.
In classical medicine, we consider three doshas namely Vata, the air element, Pitta, the fire element, and Kapha, the water element. Their natural equilibrium is what makes the body healthy. A disturbance in the natural balance of these Tridoshas will result in physiological as well as pathological conditions, making the body susceptible to diseases.
Hence, coming down to Vata dosha, This one is with 'inertia of motion', always moving around. Airy in nature and is the lightest dosha. One who guards over sensory and motor functions of the body. It is the one responsible for all the circulation, locomotion, and transport of nutrients and minerals. And where it is specifically located to say of…The colon. Now it makes more clear why we need Vata balance for healthy abdominal functioning.
DOSAGE :
Intake of 25-30 ml twice or thrice every day after meals.
10-15 ml of Mrithasanjeevani once or twice every day after the meals.