Murivenna Ointment – Ayurvedic Treatment for Joint Pain, Inflammation and Injury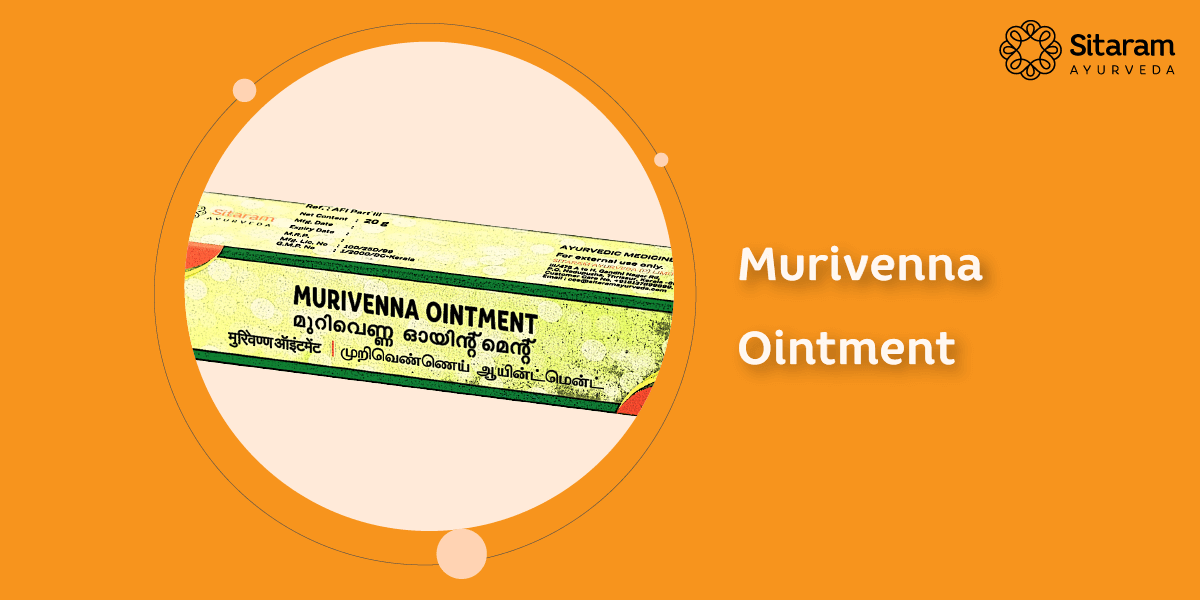 People, at least once in their have suffered from some kind of inflammation, injury, or joint pain. These ailments have no specific restriction and hence Murivenna is useful for every individual. Murivenna ointment is a medicated ointment primarily made out of coconut oil, infused with its anti-fungal and anti-bacterial properties. It is best known for its anti-inflammatory and analgesic characteristics. And can alleviate pain quickly if appropriately administered. This ointment is an absolute remedy for the treatment of inflammation caused due to fractures, sprains, arthritis, muscle cramps, and other injuries. The term Murivenna (Murivu – Wound, Enna- Oil) suggests that it is an oil meant to heal wounds. It is also seen to have bone-setting properties.
Sitaram Ayurveda made this magical potion into an ointment with increased healing properties. With a different consistency, it can get absorbed into the skin much faster and heal faster. This ointment is enriched with the medicinal qualities of Sigru, also called the drumstick tree, which can phenomenally cure menstrual cramps. Sigru also helps with the treatment of inflammation and pain brought by different types of arthritis. Arthritis is the inflammation of joints, one joint or multiple joints together. This ointment can be best used for the treatment of edema as it contains Shathavari, the queen of herbs. Edema is a condition when fluid build-up in tissues and ends up causing swelling in ankles and other body parts. Murivenna ointment can reduce the pain in the site of the swelling. Several other herbal constituents are also used in this ointment. Kumari, also called Aloe vera, is one of them. The polysaccharides in the aloe vera help with the regeneration of tissues in wounds and burns. It also has the ability to neutralise poisons, making it effective in bites and stings. The Palandu or onion is helpful in putting Vata dosha to control and thus reduce pains associated with it. It has antiseptic properties and therefore suppresses any bacterial infections in the wounds.
Also, it is highly beneficial in treating external haemorrhoids, and anal fissures as the ingredients have high anti-inflammatory properties. Sometimes swelling in the legs can be a symptom of a different condition. However, it can cause great discomfort and even affect our day-to-day activities. But with murivenna ointment, swellings have an easy solution. Because of its anti-microbial and anti-fungal properties, it is also helpful in the treatment of fungal infections such as ringworm, candida, thrush, and fungal infection of the nails. Murivenna ointment is a potent analgesic cream that is widely used to treat pains such as tennis elbow, shoulder dislocation, back pain, post-surgery pains, spondylitis pain and stiffness, slip disc, ligament, tendons, spinal injury, acute soft tissue injury, sports injury, and arthritis. In ayurvedic medicine, Murivenna is widely acclaimed of Dahahara, which is the healing of burning sensation. That means it can easily treat inflammation of the gut and bowel and also peptic ulcers. With the changing food habits, ulcers can be inescapable. Everyone needs something that can help them with all of these lifestyle diseases.
The ointment has handy and consumer-friendly packaging, which makes it easy for people to carry it around. As we know, in these times of uncertainties, one can get wounded or get a burn from anywhere. Thus, taking a first aid kit with us has become as normal as it can be. With its quick healing with burns and cuts, Murivenna Ointment has proven to be the best addition to your first aid kit. You can apply the required quantity on the affected area until it heals.
Buy Murivenna Online here : https://www.sitaramayurveda.com/product/murivenna–ointment/