SCURF HAIR OIL – An Ayurveda Remedy For Major Hair Problems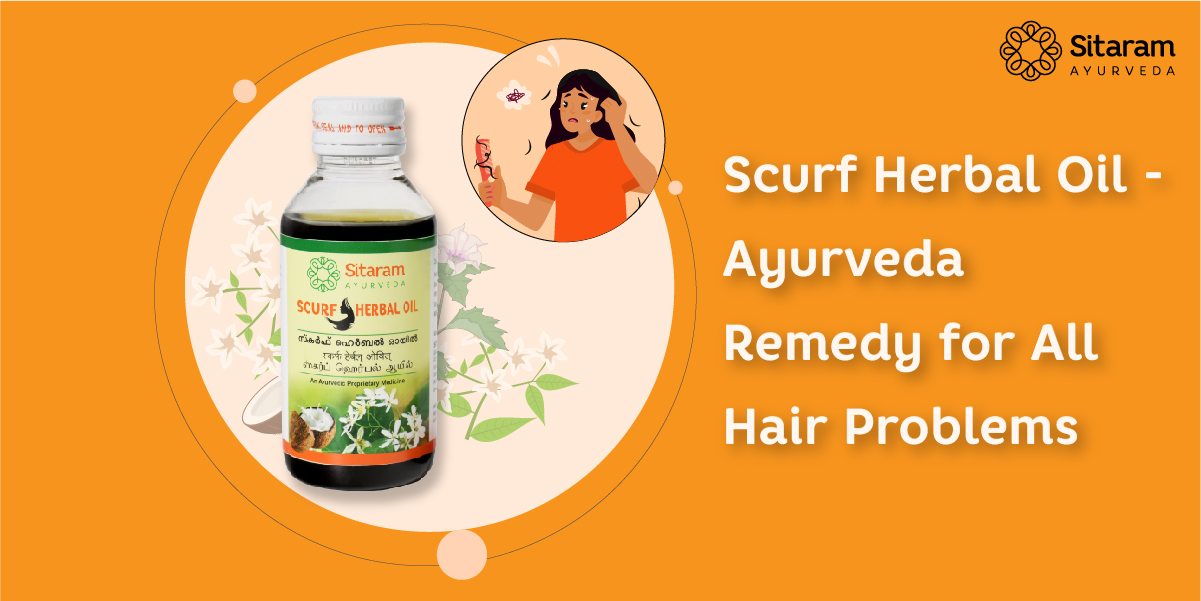 The Scurf Hair Oil is an ingenious formulation from Sitaram that comprises the absolute remedy for your hair and scalp issues. The formulation has been derived from the Sahasrayoga under the context of hair issues that contains a potent blend of Danthapala and Durdura infused into pure coconut oil. It cures dandruff, stimulates as well as cleanses the hair follicles, and soothes dry and itchy scalp. This potential formulation is a detailed solution for white hair problems and itchy scalp. This oil contains astringent, antimicrobial, and antifungal properties that are profitable in treating microbial and fungal infections. Also, it tones the scalp and renders deep nourishment and hydration. When massaged into the scalp, it enhances blood circulation, exfoliates the skin, and protects against various hair-related ailments.
Key Features :
An Ayurvedic formulation for major scalp and hair issues
Healing and revival of hair sheath
Natural remedy for dandruff and white hair
A great companion for hair
Facilitates healthy hair growth
Bored of breakouts, redness, and itching scalp? Is your hair fall abnormal? Ain't your expensive cosmetic and branded commodities showing their results? You must be exhausted searching for a perfect and promising hair care product or brand that can infer your hair problems and find an accurate solution. Who in the world never demands to have healthy and shining hair? If you were not a hair person why would you spend hours on your screen surfing the remedies or DIYs?
Enough of your surfing and scrolling. It's time that you binge into the elixir potion that can alleviate your hair problems.
Thinking about which chemical formula is this ??? This is not any chemicals or parabens but a wholly authentic and natural Ayurvedic creation exclusively proposed for your locks.
Do try this absolute natural magic!
SITARAM'S SCURF HAIR OIL – FROM THE ROOTS
The scalp condition is a major concern for robust and shiny tresses. A clean scalp with moisture and oil balance is well sustained, which can lead to proper blood circulation, which en route strengthening of hair and growth of hair contributes abundantly to a strong hair and healthful scalp. A dominant challenge to this scenario is dandruff and itchy scalp that can steer to acute hair ailments later on.
Scurf hair oil is an authentic Ayurvedic oil preparation that mainly focuses on numerous hair and scalp issues. Entrenched to the depth of Sahasra Yoga, accurate and centum use of this formulation has brought about great fallouts against various hair and scalp issues like hair fall, white hair, itchy and red scalp, dandruff etc. This is a 100% natural and solely herbal vegetarian product that restores and mends the hair. It prevents hair fall, strengthens the hair roots naturally, and invests thrive and shine to your locks.
The infusion base is the coconut oil that ensures intense moisture and nutriment thereby keeping the scalp supple and hydrated. In conditions like chafed or irritated scalp, the anti-inflammatory properties of scurf hair oil act as a sudden antidote. Furthermore, the antimicrobial, antifungal, and astringent properties of Dattura and Danthapala deter hair fall, encourage hair growth, nourish and revive dry brittle hair and keep away dandruff and scalp diseases.
SITARAM AYURVEDA – A Closer Look
Sitaram Ayurveda has a healing legacy of 100 years. It started in the year 1921 with a vision to help people become their healthiest selves. Being the first Ayurveda Company to receive the Good Manufacturing Practices (GMP) Certification, Sitaram gives absolute priority to the quality of the products in each step along with the advancements to elicit authentic and superior quality Ayurveda products.
Passion, excellence, and innovation being the core values, Sitaram was built to heal and nurture mankind through the enhancing powers of Ancient Ayurveda, along with day-to-day advancements in technologies. In addition, Sitaram Ayurveda brings the wisdom and legacy of Ayurveda to the modern man with over 450 classical and patented Ayurvedic formulations.
The Combination
1. COCONUT OIL
Coconut oil is a proven natural phenomenon for hair that can soothe the texture and provide robustness to the hair. By amplifying the growth, lengthening, as well as improving the shine and texture, it provides a better carriage to the total outlook of your locks. It has a revitalizing effect that always keeps your scalp as well as hair in a proper and healthy condition.
The coconut oil composition talks about its molecular load and contour that is capable of penetrating deep into the roots of the hair. No other oil is as accurate and effective as a base like coconut oil for preparing hair oil.
Furthermore, periodic and sufficient usage of coconut oil on hair can give your hair a lustrous texture. It also causes windfall in abolishing dandruff and dry scalp. Also, a gentle head massage with a few drops can drive to relieve mental fatigue and stress.
2. WRIGHTIA TINCTORIA
The Danthapala in Ayurveda and ancestral medicine is Wrightia Victoria, also known as Kutaja. Sita virya (cold in potency) and Laghu (light) Ruksha (dry) are the properties of Danthapala that enhance the potency of the drug.
The hydration and nourishment of the scalp is the main purpose of Danthapala.
The antimicrobial property staves off infections that occur on both scalp and hair. The chemical constituents that are present in Danthapala display antifungal properties and hence inhibit the breakout. Furthermore, it softens and nurtures the epidermis.
3. DHURDURAPATRADI COCONUT OIL
The main ingredients are :
Coconut oil
Juice extract of Dhurdurapatra (leaves of Dattura metel)
Seeds of Dhurdura
In this herbal oil, the seed and patra of dhurdura are imbued into the coconut oil which has oil soluble and water soluble phyto-active principles of medicinal herbs. It has Laghu (light) and Rooksha (dryness) properties with Ushna virya (hot potency).
It has astringent, antimicrobial, and antifungal properties on the itchy scalp, white hair, and chafed scalp. It enhances scalp health and delivers vitality to the hair root. Also, it reduces dandruff and yields in the growth of thick and shiny hair.
Let's Make Maximum Use Of Every Drop
As directed by the physician.
Or
Gently warm the oil in a bowl till it discharges the herbal aroma. Part your hair in sections and oil your scalp and hair length thoroughly.
Massage the oil using your fingertips for at least 20 minutes. Apply constant pressure and move systematically in a circular pattern.
Wash off the surplus oil with a delicate shampoo and dry your hair naturally.
A Wrap-Up
The days and nights of Sitaram are devoted to fetching new factual and realistic products that have en route from Ayurveda. A 100 chemical products as a hair care routine may unravel your issues in a day or week. But the expenditure, the after-effects, and forthcoming health of your hair and scalp are least assured by them. So why take a risk when you have something raw from nature, that is affordable with no havoc to your hair and scalp.
Adapt to the natural and Ayurvedic remedies and see the enchantment of this miraculous combination.
Binge on the raw routines and make your lifestyle a long-lasting and active one.
We offer you No REGRETS!
To buy Scurf Hair Oil from Sitaram Ayurveda: