Sitaram Speciality Ayurveda Clinic Ernakulam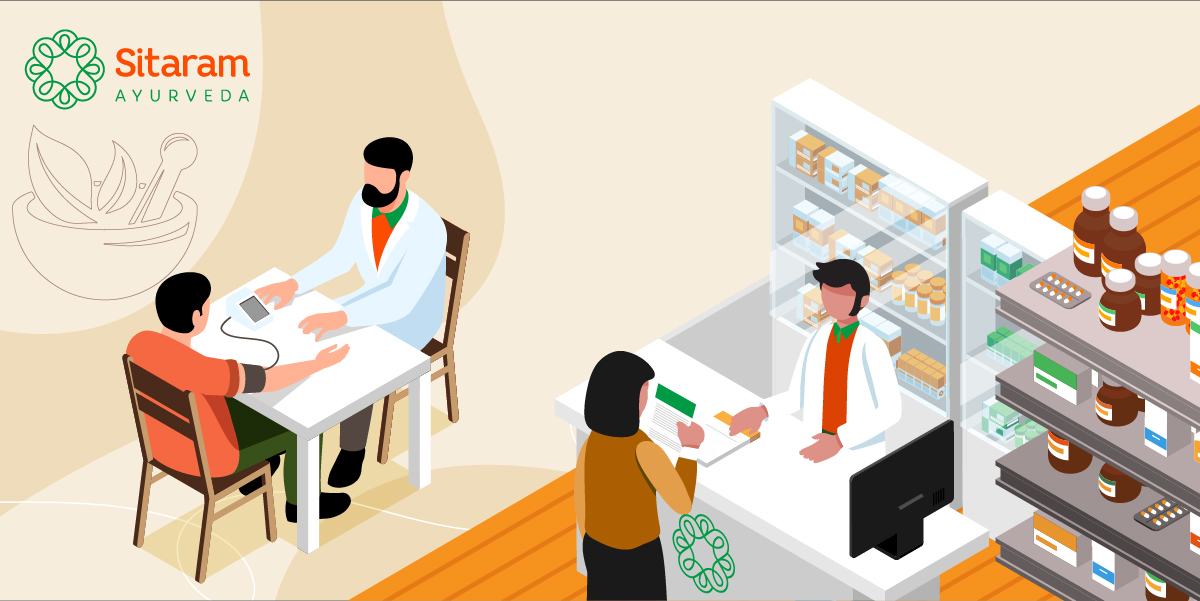 Ayurvedic medicines are the backbone of Ayurvedic treatment and in a span of more than 100 years, Sitaram Ayurveda has done intense research to manufacture medicines, perform extensive studies on improving the effectiveness of medicines and reached out to patients all over the world.
We are proud to announce that we have inaugurated our Ernakulam Branch on Chittoor road, opposite SBI bank. You can avail of services from some of the best doctors at Sitaram Ayurveda here. We provide easy options to pre-book your consultation for Speciality OP and purchase medicines online from the comfort of your home. We also provide free home delivery of medicines within a radius of 5 km from our clinic.
Address:

Sitaram Ayurveda
Ernakulam Branch Opposite SBI,
Chittoor Road, Ernakulam – 682 018
Ph: 81388 85653
Email: ekm@sitaramayurveda.co.in
https://g.page/sitaram-ernakulam?share
Whatsapp : 81388 85653
Consulting physicians:

Dr Usman K, DAM
Retd. Senior Medical Officer
49+ Years of Experience
Specialization – joint pain, skin disorders, digestive ailments, piles, back pain, diabetes, pediatric conditions
Consulting every Thursday from 4:00 pm-6:30 pm
Dr Lijo Mannachan, BAMS
17+ Years of Experience
Specialization – rheumatism, psoriasis, osteoarthritis, menstrual problem, asthma & allergies
Consulting every Saturday from 10:00 am – 4:00 pm
Dr Deepika S, MD (Ay)
4+ Years of Experience
Specialization – lifestyle disorders and wellbeing, menstrual disorders
Consulting every Monday from 10:00 am-12:30 pm
Wednesday and Friday from 4:00 pm to 6:30 pm
Thalaneerirakkam
Thalaneerirakkam can cause swelling in different parts of the body which can in turn alter the balance of the three doshas vata, pitha, kapha and cause further ailments like:
1. Feeling feverish, lack of digestion, acidity, constipation, mouth ulcers
2. Phlegm, cough, cold, sneeze, nose blocks, headaches
3. Swelling and pain behind the neck, shoulders, hips, knees and elbow joints
4. Tiredness, lack of energy, itching in various parts of the body, pimples and scars
If these symptoms continue, you may struggle mentally with issues like anger, lack of energy, constant feeling of sadness and lack of sleep. The swellings in the body, if left untreated, can cause more severe diseases. It is important to understand the cause of the swelling based on the three doshas and we at Sitaram Ayurveda, with a legacy of over 100 years, can help you find the right treatment to cure your ailments.
We also provide expert treatment plans for menstrual issues, infertility, uterine cysts, ovarian cysts, leukorrhea, skin diseases, hair fall, dandruff, Covid-related issues etc.
Pre book your appointment by calling 8138885653.

Online consultation is available only on Sundays for:
Dr Bhagavathy Ammal, DAM
Infertility and women's health specialist
Medical Superintendent
Sitaram Ayurveda Speciality Hospital, Thrissur

The first 500 patients who avail of consultation are eligible to receive the Sitaram Privilege Card for free. You are eligible for a 10 percent discount on medicines using the card.