Ayurvedic Herbs for Hair Growth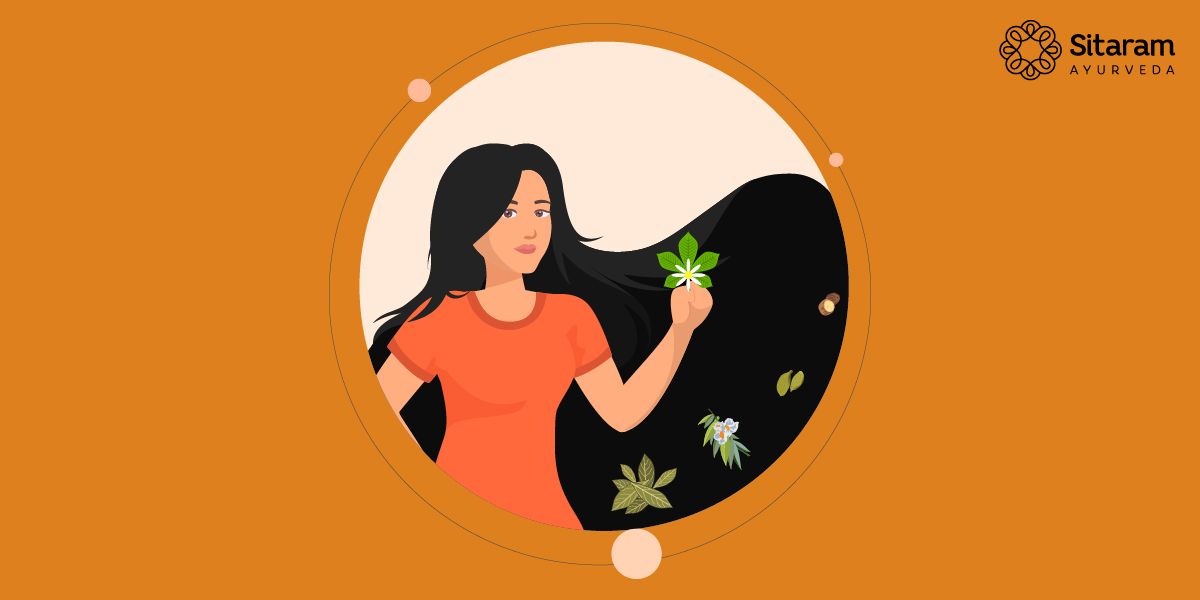 Straight and silky strands cascading down their shoulders, full of volume, bouncy, shiny, and smooth…!! Isn't this what the 'ideal hair adverts' show? We believe you're smart enough to look past the displays and discover the truth. These are merely marketing strategies, with little regard for the healthy roots!
Actually, from the base up, down the length, and throughout the texture, health is what we should be talking about. And this goes well beyond the idea of "perfection" that we see in most advertisements.
The formicated scalp, gummed frizz, and persistent dandruff and such myriad hair problems we have in our life can be resolved with the aid of natural remedies! You must be familiar with the herbs that are listed under the hair care formulas of most herbal products, but do you know what these herbal ingredients are actually capable of? Let's have a look.!
HERBAL ALLIES FOR HEALTHY HAIR
● Bhringraj (Eclipta Alba)
The name Bhringraj means "King of the Hair" in its literal sense. A potential herb that can boost regrowth of even the hair loss brought on by male-pattern baldness.
Because of the presence of beta-sitosterol contained in the herb, DHT activity in our body is reduced. DHT is mostly to blame for the hair follicles' shrinkage, which prevents nutrients and blood flow from reaching the follicle leading to irreversible hair loss. It preserves dark hair, prevents baldness, soothes the mind, and encourages restful sleep too.
And guess what we have in store other than this information.? It's Sitaram's Narasimha tablets that have the goodness of Bringaraja in its hair care formula. Sitaram's Narasimha Tablet promotes hair growth, delays the onset of premature graying, and promotes the development of thick, glossy, black hair.
● Amla (Emblica Officinalis).
Amla, often known as Indian gooseberry, offers much more health benefits than we may even realize. It is commonly referred to as "Datri." Tannins found in amla defend cells with antioxidants, which minimizes damage caused by free radicals. Amla provides nutrition, darkens hair, and slows down the onset of baldness. It is high in vitamin C and abundant in phosphorus, iron, and calcium. What more do we need for fulfilling our dreams of healthy hair.?! Moreover we thought of the best for you as we incorporated the magic of Amla in our Narasimha tablets and Narasimha hair care oil.
● Bibhitaki (Terminalia bellirica).
Because of its great ethnomedicinal properties, the genus "Terminalia" contains the majority of the medicinal herbs that are utilized throughout the globe.
The antitoxic effect, cleansing quality, and therapeutic activity of Terminalia bellirica are especially popular in Indian medical systems like Ayurveda. Bibitaki's rinsing action is incorporated into Sitaram's Narasimha tablets and Narasimha hair care oil for the optimum purge over chemical impurities that our hair encounters on a daily basis.
It gets rid of the extra oil that builds up on the scalp, leaving it clean, and dandruff-free. As a result of the healthier cells and a clean scalp, hair will grow faster and absorb nutrients more effectively, becoming thick, lustrous, and manageable.
● Neem (Azadirachta indica).
This "Wonder Herb" of Ayurveda has been utilized extensively for over 4500 years, which accounts for the wide range of health advantages they provide. It stands out among the various diverse herbs utilized in the traditional Ayurvedic medical system.
This "Nature's drug" acts on issues like hair thinning, hair loss, and dandruff and will balance the heightened inflammatory levels in the body, especially those caught up in the hair follicles. Nimbidin, the active ingredient of Neem will give the scalp a fresh appearance while detoxifying the hair strands and stimulating healthy hair follicles.
● Hibiscus (Hibiscus rosa-sinensis).
Even in the present period, when we have a variety of skin, and hair care products, the grandeur of traditional herbs like that of hibiscus as mentioned in the classics has not yet disappeared.! Since ancient times, Hibiscus has been utilized extensively for its antimicrobial, antigenotoxic, antioxidant and other diverse characteristics found in its bark, leaves, flowers, and roots.
The leaves and flowers of Hibiscus have the ability to promote the growth of healthy, lustrous hair. Thanks to the presence of flavonoids, anthocyanins, and phenolic chemicals as well as petroleum ether in the most natural form. Because of this remarkable herb's high Keratin content and ability to restore hair health, herbal healers and propounders highly suggest this wonder herb.! The rationale behind the inclusion of this wizard in most herbal hair care products is thus decoded.!
● Henna (Lawsonia inermis).
Henna has been many women's best buddies since ancient times until today. Why did this one become so well-liked? Does it eliminate even minute contaminants? yes.! What is so special about that property.?
A major component influencing healthy hair is having clean hair. Henna's enormous popularity and use among people can be attributed to both its mind-blowing purifying ability and its cooling and dying effects. With its main ingredient LAW (2-hydroxy-1,4-naphthoquinone), it is both incredibly affordable and therapeutic, all at the same time. These properties assist the hair to recover from breakage, dandruff, and dry conditions.
These are just a few among numerous herbal allies for healthy hair.!
Sitaram's Narasimha Hair care oil and Sitaram's Narasimha tablets
The essential formulations, out of Ayurveda's time-honored Rasayana practise.! Narasimham hair oil is a special combination of herbs and minerals that support hair growth, strength, color and texture.
The Ayurvedic scriptures support the practice of applying oil to one's head on a regular basis. The most important part of one's body is the head.! It has eight crucial openings, including the mouth, ears, nose, and eyes, as well as one critical but undetectable entryway to the body's health: the summit of the head.
While applying oil to your head gives your hair evident and long-lasting health, it also naturally contributes to the well-being of your complete body on a more subtle level. Hence Sitaram chose the best herbs with broad spectrum benefits to form its hair care oil formulation with the goodness of Triphala (Haritaki, Bhibitaki, Amlaki), Bringaraja, Nalikera (Coconut) etc. For maximum results, we suggest you to use it with our Narasimha Tablets which is an Ayurvedic dietary supplement providing your body with the best nutrition and increased strength. Sitaram's Narasimha tablets incorporate the wholesomeness of Amalaki (Emblica officinalis), Khadira (Acacia catechu), Bhringaraja (Eclipta alba), Chitraka (Plumbago zeylanica), Kasisa bhasma (purified ferrous sulfate), and other effective herbs to keep you robust and untarnished.
So let's embark on a healing adventure in nature to achieve our health goals.