Kanakasavam – Ayurveda Medicine For Asthma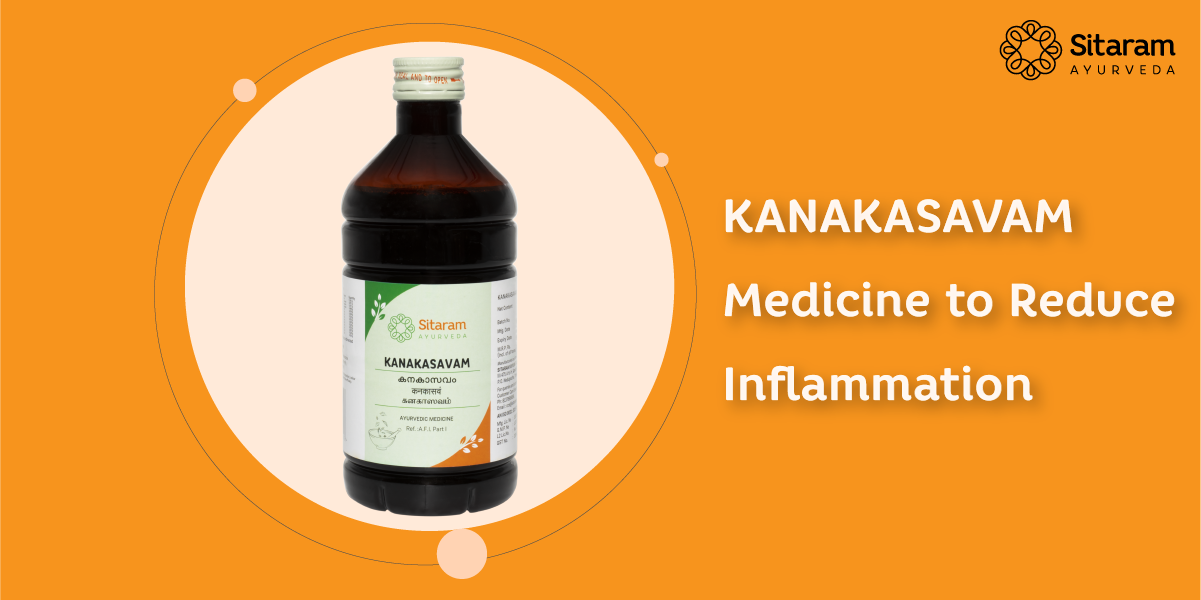 Enriched with the vigour of various herbs and the elegance of Ayurveda, Sitaram's Kanakasavam is the go-to solution for your respiratory concerns. Let it be allergies, asthma, inflammation, muscle pain or even digestive distress, Kanakasavam can help you manage these ailments.
Key features:-
An ayurvedic formulation for breathing difficulty
Relief from chronic cough and cold
Mitigate inflammatory conditions
Cures sinus infection and clears nasal passages
Effective anti-spasmodic
Remedy for respiratory allergies
Running itchy nose, relentless efforts to take a breath, cough that keeps you awake even in the middle of sleep, sneezing, wheezing…. respiratory troubles are always a nightmare. Especially in a Covid-centric era where we have seen real people succumb to respiratory failure, the risk of getting respiratory tract infections is unusually high. Breathing is the first act we do out of the womb and is the primary activity that keeps up the body. Every cell has its oxygen requirement which is to be met through breathing. It is a spontaneous activity and therefore, should not be laborious. The days you've been desperate for a cure to your respiratory woes have gone away. Here's the answer you were looking for!
Kanakasavam Preparation
Kanakasavam is a classical preparation employed in managing the breathing difficulty. Having been used for centuries, it has proven effective against chronic sinusitis, cough, cold, allergies, muscle spasms, etc. It is described in Bhaishajyaratnavali, the book of Ayurvedic formulations, and by other scholars like Acharya Charaka and Susrutha as Kasahara( mitigates cough), Balya( promotes strength), Deepana-pachana (kindles digestive fire), Ruchya (pleases the appetite), and Rasayana(rejuvenator).
Why Sitaram's Kanakasavam?
Here's why you will find Sitaram's Kanakasavam helpful for your respiratory worries:-
Easy to use and preserve.
Syrup-like consistency and sweet taste; even children would love it!
A potent bronchodilator that increases the airflow and relaxes bronchial passages.
Effective against all kinds of respiratory issues, even a sudden episode of asthma.
Could be used in any stage of disease, no matter acute or chronic.
An anti-inflammatory and anti-allergic agent.
As a preventive measure against the Covid-19.
Bolsters immunity.
Improves gut health as most of the ingredients help in digestion.
A home remedy for stomach worms.
Relieves muscle spasms and pain.
Cures fever, as some ingredients are antiviral and antimicrobial.
Mitigate bleeding disorders.
Relieves sinusitis and other infections.
Kanakasavam composition:-
Kanaka/Dhatura (Datura metel)– Also known by the name Thorn Apple, is mentioned in epics as the herb used by Lord Shiva for recreation. The extract of all parts can be used. Because of the antispasmodic property, it calms down the respiratory muscles and removes blockade, thereby relieving cough and asthma. Apart from these, the plant also has anti-dandruff, anti-inflammatory, antimicrobial and hallucinogenic properties.
Vasa (Adhatoda vasica)– included by the World Health Organization in their manual The Use of Traditional Medicine In Primary Health as a treatment for cough and bleeding piles. It is also mentioned in Ayurvedic treatises as the Agroushadha(the supreme herb) for bleeding disorders. Vasicine the alkaloid has proven to be an effective bronchodilator and a smooth muscle relaxant, and the plant extract is being used for managing tuberculosis, chronic cough, cold etc.
Yashtimadhu (Glycyrrhiza glabra) – The liquorice plant, being more of an anti-inflammatory and antimicrobial agent, is used in various allergic conditions. Glycyrrhizic acid is a potent immunomodulator that prevents viral multiplication and thereby reduces the risk of a viral infection. It is used in treating tonsillitis and allergic cold.
Nagakesara (Mesua ferrea)– a miraculous drug considered to be the tree of enlightenment by Lord Buddha is widely used in indigenous medicine due to its antimicrobial, antifungal, anticancer, immunomodulatory, analgesic and anti-inflammatory properties. Helps to maintain the normal cell structure of the lungs and alveoli.
Pippali (Piper longum)– ancient Ayurvedic texts refer to Pippali as a medicine and spice and is being used as a prime ingredient in several Ayurvedic formulations. Pippali fruits have been reported to reduce cytokine action, respiratory hyperresponsiveness and eosinophil infiltration. Used for treating tuberculosis and airway tract infections.
Viswabheshajam (Zingiber officinale) or Ginger– being an easily available spice in the kitchen, ginger is one of the commonest home remedies we are acquainted with. Just like it aids digestion, it helps with respiratory troubles too. It is a brilliant bronchodilator and tracheal relaxant. It induces bronchodilation by regulating the calcium transport in the smooth muscles.
Bharngi (Clerodendrum serratum)– a herb used in the management of fever (malarial fever etc.), pain and inflammation. Saponins contained in it possess anti-inflammatory, anti-allergic and analgesic properties.
Other ingredients include Vyaghri (Solanum virginianum) which is used to treat cough and chest pain, Thalisapatra (Abies webbiana) which is an effective expectorant, Dhataki (Woodfordia fruticosa) that helps to manage asthma, and Draksha (Vitis vinifera) our regular raisins which relieves constipation, sore throat etc.
If you are a person who is familiar with Ayurvedic herbs, you will see that most of the above ingredients intend to promote digestion and clear the alimentary pathway too. With the formulation carefully curated for you to conquer your sufferings.
Directions:
For adults – 25-30 ml twice or thrice daily, after food.
For children – 10-15 ml once or twice daily after food or as directed by the physician.
Any medicine that has an effect will have side effects if not used carefully, and so has Kanakasavam. Though highly recommended when used in the prescribed dose, Kanakasavam could be harmful when taken an overdose, which includes headache, nausea and vomiting. Therefore, sticking to the ideal dosage is necessary.
The following group of people should not consume Kanakasavam:-
Pregnant ladies, as the ingredients like Datura and Nagakesara, are labelled abortifacients.
Lactating mothers.
Patients with cardiac anomalies.
Children below 6 years.
In a world of pollution and pandemic, keeping your respiratory tract clear is indeed a difficult task. As the situations are unpredictable, the only thing we could do is to be cautious. Kanakasavam, with the goodness of Ayurveda and the power of plant extracts, is your companion on your journey to freedom from inhalers and oxygen cylinders.
To buy Kanakasavam from Sitaram: