KANJUNNYADI KERA THAILAM – Ayurvedic Medicine for Hair Growth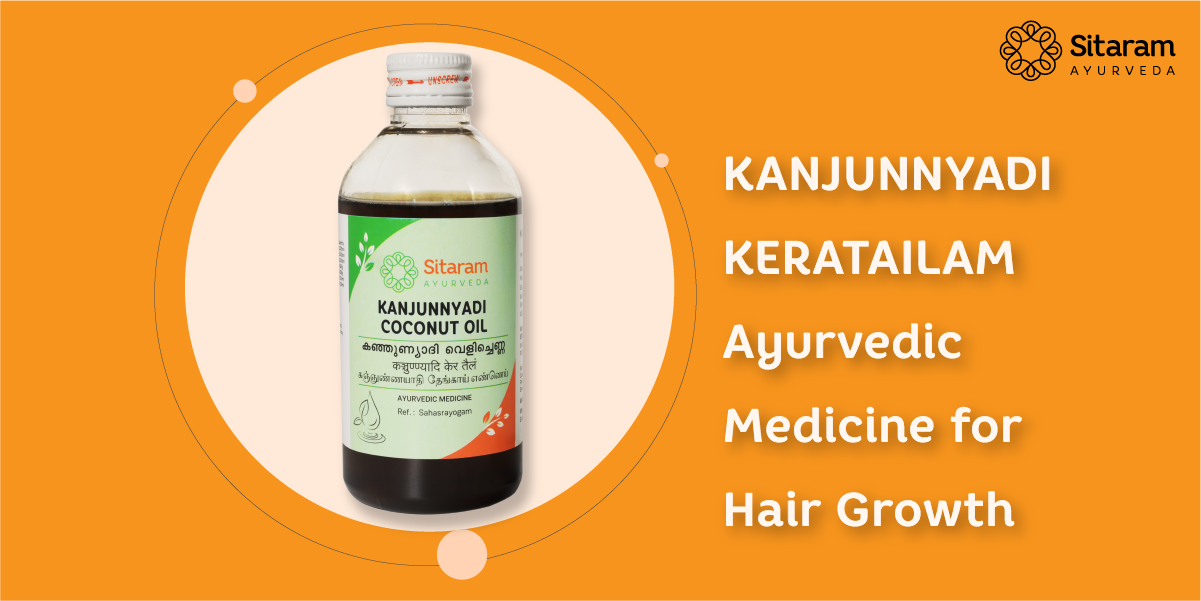 Kanjunnyadi Kera Tailam is one of the most effective hair care solutions in Ayurveda and is the perfect product that you have been on a hunt considering its advantages as an effective Ayurvedic medicine for dandruff and Ayurvedic medicine for hair regrowth. Sitaram Ayurveda aims at promoting wellness through Ayurveda developing a healthier option for your hair care problems, using the best Ayurvedic herbs for hair growth and hair fall control. This Ayurvedic hair oil is the perfect choice as your total Ayurvedic hair care product.
Key Features:
Ayurvedic medicine for managing premature greying, hair growth and minimizing hair fall.
Ayurvedic relief from dandruff and other maladies.
Strengthens the hair and promotes effective regrowth patterns.
Who does not dream of long luscious thick black hair?
Stand out in a crowd with your strong, black, healthy hair strands flying free without the fear of getting frizzy or having broken ends!
Hair is the most beautiful, attractive yet inexpensive ornament one can wear, adding an aura to your confidence.
Hair problems are hair fall, constant trouble of dandruff, hair loss, split ends, breakage…or frizzy hair… For someone who loves their hair, these are more than enough to set off anxious days and sleepless nights! Being a member of this fast-paced society, stress adds to the challenges our hair has to face. Most often the multimedia offers luxurious multiple-step hair care routines as a solution but we try them out and realize that they are not an effective remedy for our hair problems. That is where the goodness of the age-old science of life, Ayurveda comes to your rescue as Sitaram's Kanjunnyadi Kera Thailam.
Hope you remember the last time you commented on somebody's long and lustrous hair and wished for a magic scepter to just replace your hair with theirs? Well, what if that magic scepter was right here for over 5000 years. Yes, you heard it right… A ONE-STOP SOLUTION! AN AYURVEDIC MEDICINE FOR COMPLETE HAIR CARE!
SITARAM'S KANJUNNYADI KERA THAILAM
Here is why you should choose Sitaram's Kanjunnyadi Kera Thailam:
Helps to manage your frizzy and damaged hair
Absolute nourishment for your hair roots
Strengthens your hair and imparts black color and shine
Prevents premature greying
Improves scalp health
Controls dandruff
Provides enhanced blood circulation to the scalp and supports optimal hair growth
Know the magic bottled for you
Ingredients:
Kera Tailam (cocus nucifera)– an age-old Ayurvedic mantra used for all types of trichological and dermatological issues. Rich in medium-chain fatty acids called lauric acid, it is easily absorbed to the hair shafts maintaining its long and straight structure. Due to its soothing properties, it helps in improving scalp health making it smoother and prevents scaling due to rough skin. Daily massaging of the scalp with this wondrous oil helps in better moisturization and blood circulation.
Kayyonni (Eclipta alba)– This magic hair drug, also called Bhringraj or the king of hair, is the most effective drug in hair treatment. Rich in alkaloids, polyacetylenes, flavonoids, triterpenes and thiophene derivatives, Bhringraj is an excellent external rejuvenator boosting your hair roots and maintaining scalp health. Bhringraj is abundant in hair growth boosting active ingredients that help in growing thick, black and lustrous hair.
Amalaki: Bliss in a bite or Indian gooseberry (Emblica Officinalis) is the Powerhouse of vitamin C, Amalaki is one of the wonder drugs that heal you inside out. Being a rich source of carotene, iron and antioxidants, it strengthens and rejuvenates hair follicles right from its base. Abundant in vitamin C, Amalaki prevents premature greying. Also rich in vitamin B, carotene, protein and fibre, active compounds of Amlaki helps in the production of collagen and maintain the protein structure and function. Being a rich source of iron, it helps in replacing dead hair follicles with healthy ones.
Madhuka: Botanically called Glycyrrhiza Glabra, this fighter drug prevents infections and protects your hair from damage. Active compounds like glycyrrhizin, 18 beta glycyrrhetinic acids impart antibiotic, anti-inflammatory and anti-fungal properties inhibiting the onset of skin damages and improving scalp health thereby curing scalp psoriasis.
DaruHaridra: Often known as Berberis aristata or tree turmeric, has the potential to add shine and color to your hair helping to manage premature greying. Being rich in iron, it also helps to impart darker shade and improves hair growth. It also helps in moisturizing frizzy hair and protects from damages caused by chemical treatments, improving hair texture.
Ksheera: The extravagance of Cows milk provides nourishment and care to your hair making it stronger and lustrous. Being rich in essential nutrients like vitamin B 12, zinc, iron, omega 3 fatty acids and proteins, helps in managing hair loss. Also, a rich source of biotin, it helps in managing scalp dryness and psoriasis.
How to use:
Take 2-5 ml of hair oil or the quantity advised by your Ayurvedic health care practitioner and gently warm it. Once the oil is warm, start applying it on your scalp in portions with mild pressure. Once you complete oiling your scalp start massaging it for about 5-10 minutes and leave it for about 15 minutes. Make sure to clean your scalp while bathing by removing the oil using herbal powders or very mild herbal shampoo.
Great power needs great caution:
Here are a few points that will help you attain better hair health
Do not leave the scalp oiled for long.
Never leave your scalp oiled for more than 30 minutes.
Do not apply excess pressure while oiling hair if you suffer from severe breakage.
Avoid oiling your hair if you suffer from ear, eye and nose infections and during cough or cold.
While using Ayurvedic medicine for hair growth and replenishment it is important to know, they do not give results overnight. While incorporating Kanjunnyadi hair oil it is also vital to practice Ayurvedic daily regimens that strengthen your hair from within.
Use the power of Ayurveda in this magic mix of herbs to get your shine back in black.
Here's Care for your hair and cure your hair worries!
To Buy Thailam from Sitaram Store: