Karpooradi Thailam – Pain Relief Camphor Oil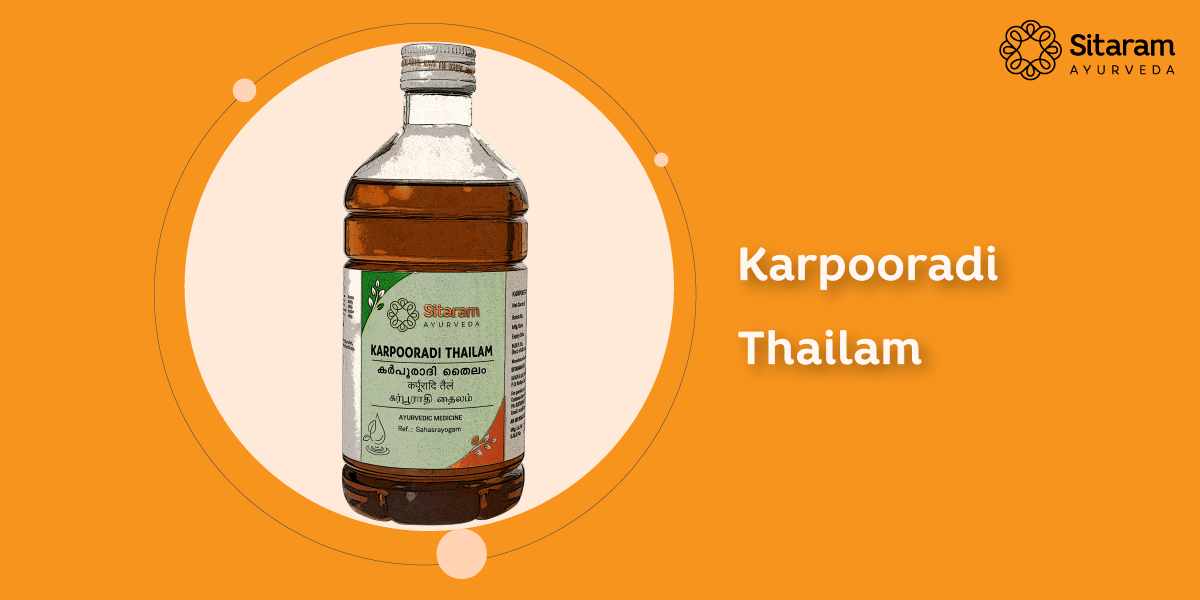 Karpooradi taila is particularly a pain-relieving oil that helps in managing Vata imbalance. Karpooradi Thailam is an ayurvedic medicine that relieves muscle pain and cramps. Some people may use it on its own, while others may find it helpful combined with other treatment methods. The Thailam helps to fight the inflammations and swelling in different parts of the body. Also, it soothes tension in the muscle. It can help with discomfort and pain caused by injuries. It enhances blood circulation and thus ensures the proper functioning of the joints. It helps with the numbness of joints found in older people. Karpooradi Thailam aids in the healing of pains such as toothache and earache. It can reduce congestion in the chest and reduce difficulty with breathing. This thailam can be considered as a massage oil that can assist with joint-related issues like stiffness, pain, and cramping.
Ingredient Used & Its Benefits
Karpura, also called camphor, is the central ingredient used in the oil. Camphor has different uses when used on different parts of the body. It can act as medicine to relieve spasm in involuntary muscles. It is an ayurvedic drug that has anti-inflammatory, analgesic, and antiseptic properties. It can help promote the secretion of sputum from the airways and lungs, hence decreasing nasal congestion. It is effective in diseases such as bronchitis, cough, and cold. Ajamoda used in this oil is an important Ayurvedic herb, which aids in reducing swelling and muscle cramps. It can provide relief in rheumatic pain. Sesame oil, which forms the base, adds to the benefits of camphor, with its properties to reduce muscle spasms, fibromyalgia, and rheumatoid arthritis.
Ayurvedic Importance of Karpooradi Thailam
Vata imbalance is one of the main reasons for experiencing pain and inflammation in the different joints. The imbalance of air and space elements in the body is referred to as Vata dosha. Vata governs bodily movements, nervous system activities, and the process of elimination from our bodies. If Vata dosha gets imbalanced and left untreated for a long time, the other doshas will also get imbalanced. The imbalance of Vata dosha can result in joint pains, stiffness, headache, and retention. All of these can be managed with Karpooradi Thailam.
One of the common issues that people have to go through is joint pains. They may be mild in the beginning but can cause severe complications if left untreated for a prolonged period. It provides a sort of warmth when applied. Thus it can be used as a remedy for people who suffer from arthritic ailments, particularly during winter. As it can unclog pores, it can penetrate deeper into the tissues and can deliver results faster. You can massage in the chest area with the oil for issues like chest congestion and respiratory problems. It can be applied in the desired location to reduce the burning sensation. The oil can be helpful in conditions like musculoskeletal disorders like sciatica, back pain, and rheumatoid arthritis. If applied externally on the head, the cooling properties of camphor can calm the mind and improve sleep quality. The pleasing aroma of the oil can also calm the mind and body by giving a relaxed feeling.
Buy Karpooradi Thailam Online here: