Psora Herb Oil – Best Ayurvedic Oil For Skin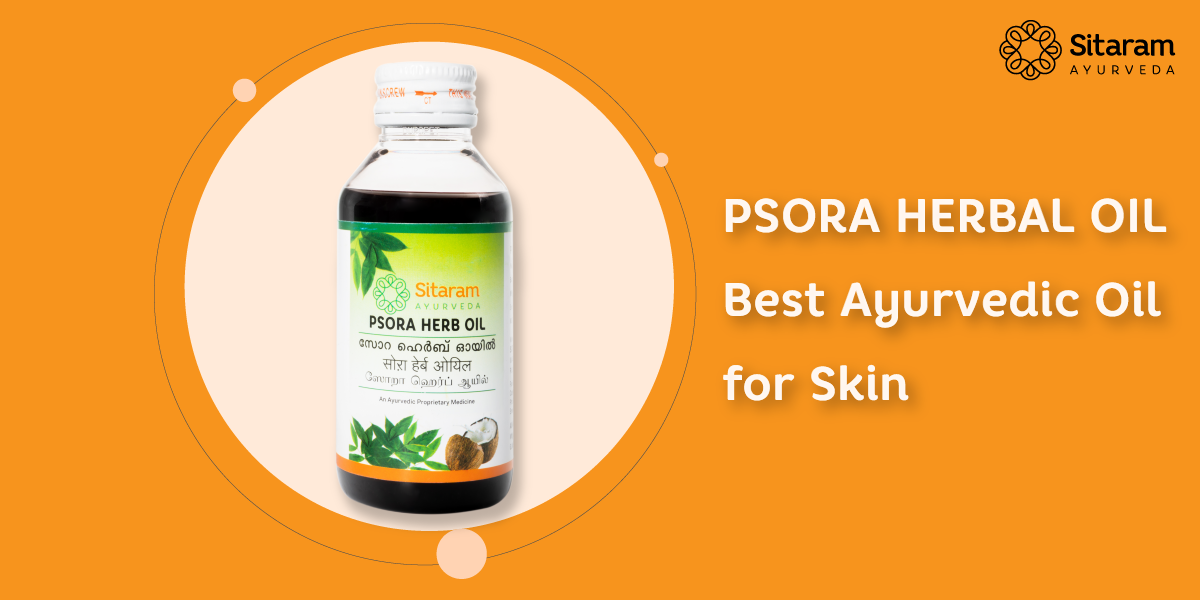 Infused to the nutriment in the footing of pure coconut oil, psora herb oil fetches you the potent healing properties of wrightia tinctoria commonly known as Danthapala in Malayalam. It is mainly practised to promote skin rejuvenation in patients with chronic conditions of psoriasis and eczema. Also, it is largely used to deal with varied types of hair and scalp problems.
Key Features:
an ayurvedic formulation for skin irritations
natural remedy for eczema & psoriasis
prevents hair fall & dandruff
cure from fungal and itchy scalp
immunity proponent
skin rejuvenation
Traffic, dust, episodic skincare and haircare, remiss to mild itching and irritations are now habitual in every home. Due to the metro mode life, people find it difficult to maintain their derm and mane.. If you are fretted about the best and natural remedy for your skin or hair issues, say bye to your concerns. From the lap of nature, we heaved a portion that can heal and repair your skin and hair troubles.
Psora herb oil – benefits in every drop
Psora herbal oil is an authentic ayurvedic oil preparation that mainly focuses on the diseases and infections of the skin and hair. Entrenched to the depth of Vedas, proper and complete use of this formulation has brought on great effects against various skin issues like eczema, itching, infection, flaking etc. When it comes to hair, the formulation plays a vital role in getting rid of dandruff, itchy scalp, fungal and bacterial infections. Moreover, in both nail and hair, it promotes rejuvenation, vitality, natural texture and complexion.
Why Sitaram's psora herb oil?
Sitaram Ayurveda is a prominent Ayurveda pharmacy since 1921 with a goal to heal mankind by augmenting the power of ancient Ayurveda applied with modern technology. One of their ingenious efforts to resolve the dermal and mane issues lead to the advent of psora herb oil.
Enlisted below are the reasons why psora herb oil is endorsed:
The best formula for all dermatitis treatment
Ayurvedic medication for psoriasis and eczema
Averts hair fall and dandruff
Relief from skin annoyances like itching redness and flaking
Act as an antifungal and antibacterial agent in skin diseases and scalp issues.
A natural rehabilitation for skin and scalp allergy
Procures realistic complexion and retains the natural texture of the skin and hair
Animal cruelty-free
The key ingredients:
Apart from other medicaments that contain a list of ingredients that are queer at times, psora herb oil ensures transparency in its ingredients. This particular formulation is prepared mainly from:
1) Wrightia tinctoria:  also known as the Pala Indigo plant or dyer's oleander, it is a flowering plant found in moist and dry regions of India. The leaves, fruits, seeds, and flowers of this specific plant are primarily used for the preparation of diverse remedial formulations.
According to Ayurveda and ancestral medicine, wrightia tinctoria is also known as Shweta Kutaja or Kutaja and the seeds are known as Indrayava or Indrajava.
It is of Sita Virya (cold in potency), Laghu (light), and Ruksha (dry) in quality.
It has an antimicrobial property that precludes infections that occur on both skin and hair.
The chemical constituents that are present in Swetha Kutaja like flavonoids, beta-sitosterol, saponin, etc exhibit anti-fungal properties and hence impede the inflammation of the skin.
The biomolecules that are present in this have the efficacy to accelerate the production of collagen in human skin which can provide a great solace from the psoriatic symptoms.
Softens and nourishes the epidermis
Lipid metabolism disruption is one of the fundamental pathogenesis of psoriasis. The coconut oil-based extract restores the lipid metabolism and preserves the mislaid nutriment.
Modulates immune reaction
Psoriasis being an autoimmune disorder, the drug concentrates on acting towards the humoral immunity existing at the zone of lesions and hence deterring remission.
2. Coconut oil
The coconut oil bolsters the layers of the skin thereby keeping the skin more radiant, hydrated and contented all the time. Moreover, it also provides effective nutrients and revamps the texture and complexion of the skin.
Reduces breakout on the skin
The coconut oil also has anti-inflammatory, antiviral, and antibacterial properties that can dissuade or remedies to numerous types of skin miseries like itching, inflammation, flaking, chafed skin, etc.
Coconut oil is a proven natural miracle for hair that can ameliorate the texture and provide robustness to the hair. It can provide a better stance for your hair by intensifying the growth, lengthening, as well as increasing the shine. It has a revitalizing effect that always keeps your scalp as well as hair in a formal and active condition.
Lighten the murky patches
Coconut oil has the proficiency to lighten the skin and hence it can diminish the impression of shady patches, dark spots, or uneven skin complexion.
Intensify collagen production
Coconut oil contains lauric acid which plays a vital role in collagen production thereby providing elasticity and firmness to the skin.
Directions to use:
A few drops or an adequate volume of the product is taken and applied gently all over the affected area.
It is proposed to undergo Aditya Paka i.e the affected area after applying the oil is excavated to mild sunlight for a few minutes for promising results. It is favorable for all age groups.
Medicated ghee (Ghrutam)
Understand your disease and treat it accordingly. Make sure you consult with a physician before using the product. Furthermore, use as directed by the physician with proper instructions.
We aim for your wellness and contentment through our proficient products, intended for their excellent quality and performance.
Entrust our core integrity and we ensure you an accurate cure.
Let's heal through Ayurveda.
To buy Psora Herbal Oil from Sitaram: