Ayurvedic Medicines & Treatments To Increase Sperm Count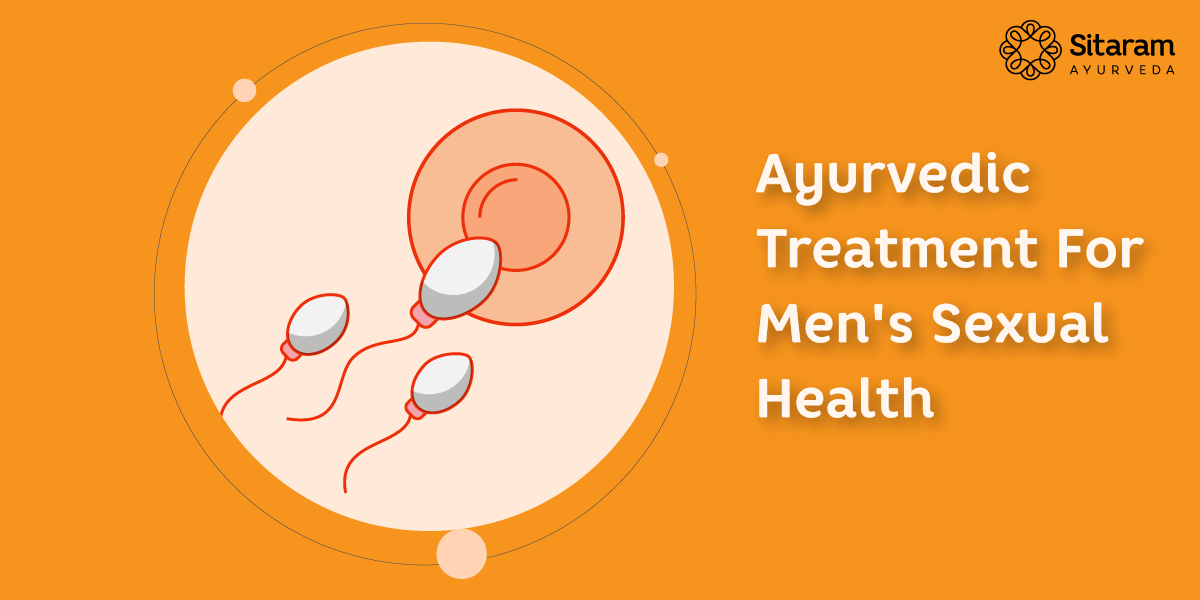 Sex is an integral part of life. For men, sexual health is vital for their well-being.
Sexual health refers to a state of well-being that lets a man fully participate in and enjoy sexual activity.
Low sperm production, abnormal sperm function or blockages along semen tracts can cause male infertility.
Normal Sperm Count
An average sperm count ranges from 15 million sperms to more than 200 million sperms per millilitre of semen.
If the sperm is healthy, 20 million sperm per millilitre may be adequate for pregnancy.
Healthy Sperm
Quantity: A healthy sperm count is about 15 million or more for every millilitre of semen.
Movement (motility)- 60-80% must be actively moving.
Shape (morphology)- Healthy sperm have rounded heads and long, strong tails.
Semen analysis includes
Number of sperm (volume)
Shape of sperm
Movement of sperm (sperm motility)
Factors affecting sexual health
Many things can affect a man's sexual life. Some of the factors affecting are
Physical
Psychological
Interpersonal
Social factors
Common sexual problems
Sexual dysfunction is a common health problem affecting men of all ages. But the issues increases with increasing age. Common problems are
Lack of sexual desire(libido)
Inability to get or keep an erection (erectile dysfunction)
The orgasm happens too quickly or too slowly.
Inability to have an orgasm
Causes of Sexual Dysfunction
Heart and blood vessel diseases
Diabetes
Hormone imbalances (low testosterone levels)
Nervous system disorders (Multiple sclerosis, Parkinsonism)
Obesity
High blood pressure
High cholesterol
Spinal cord injuries
Psychological causes
Stress
Anxiety
Depression
Concern about the sexual performance
Relationship problems
Ayurvedic Treatment to increase Men Sexual Health
The term Vajeekarana denotes all aspects of sexual health described in Ayurvedic texts. Vajeekarana comes among one of the eight Ashtangas (eight main divisions in Ayurveda). Vajeekarana often clubbed with Rasayana (branch of rejuvenation and longevity). That emphasizes the importance of maintenance of good sexual health for a better and healthy life.
Ayurvedic treatment includes medicines, herbal aphrodisiacs, lifestyle changes, dietary changes, psychological therapy, and Panchakarma (detoxification)treatment procedures.
a) Dietary changes
There are a lot of foodstuffs that can increase the level of testosterone in the body. Increased testosterone levels help to increase sperm motility and quality.
Foods that boost sperm count and motility
Egg
Leafy vegetables
Fruits
Asparagus
Nuts
Seeds
Food rich in Zinc (barley, beans, meat)
Oily sea fish
Whole grain products
Low-fat dairy products
Black gram
Characteristics of foods that are to avoid
High intake of red and processed meat
High intake of sweet drinks and snacks
Low intake of fibre, vitamins and minerals
Poor consumption of vegetables, fruits, nuts and seeds
Intake of trans and omega- 6 fatty acids
b) Practice a Healthy Lifestyle
Maintaining a healthy lifestyle improves sperm quality. These include
Proper exercise
Good sleep
Avoid smoking
Avoid alcohol consumption
Minimize stress
Regular practice of Yoga
Lose excess weight
c) Psychological Therapy
Counselling helps you address feelings of anxiety, depression etc.
d) Herbal Aphrodisiacs
Aphrodisiacs
An aphrodisiac is a food or drug that arouses sexual desire (libido). In addition, aphrodisiacs can improve sexual health. Studies show the following herbs show aphrodisiac properties.
Tuberous roots of Chlorophytum borivilianum (commonly known as Safed Musli)
Tribulus terrestris (Land-Caltrops, Gokshura)
Crocus sativus (Saffron, Kesar)
Mucuna pruriens(Kapikachu)
Asparagus racemosus(Shathavari)
Shilajit
e) Herbal Medicines
Choornams (powders): Aswagandha Choornam, Gokshura Choornam
Arishtams: Mritasanjeevani Arishtam, Ashwagandharishtam, Dasamoolarishtam, Saraswatharishtam
Mritasanjeevani Arishtam
The primary ingredients are Vavari Twak (Acacia nilotica), Ashwagandha (Withania somnifera), Gokshura (Tribulus terrestris ) etc. Most of the drugs help to improve sexual health and are good aphrodisiacs.
Aswagandharishtam
The primary ingredient is Ashwagandha (Withania somnifera) which is a known aphrodisiac.
Dasamoolarishtam and Saraswatharishtam improve sexual health.
Asavam: Nalikerasavam
Tender coconut water is the main ingredient of Nalikerasavam. In addition, Nalikerasavam contains many nutrients which can improve sexual health.
Lehyam: Narasimha Rasayanam, Aja Ashwagandha Rasayanam
Aja Ashwagandha Rasayanam
The key ingredients are Ashwagandha (Withania somnifera) and Aja Mamsa (Goat's meat). It helps to improve vigour and vitality. In addition, it is an excellent aphrodisiac too.
Single herbs
Ashwagandha capsules
Gokshura capsules
Kapikachu capsules
Asthra plus
The primary ingredients of Asthra plus are goat testicles, Ashwagandha (Withania somnifera), Kapikachu (Mucuna pruriens), Shatavari (Asparagus racemosus), etc. Most of the drugs improve sexual health and are excellent aphrodisiacs.
Asthra plus is an excellent aphrodisiac.
It improves vigour and vitality.
Asthra plus improves sperm quality, motility and count.
f) Treatment Procedure
Along with internal medicines, Panchakarma procedures (detoxification) are advised in Ayurveda. The treatment includes Snehana (oleation), Vamana (medicated enema), Virechanam (purgation), Basti (medicated enema) and Uthara Basti.
To buy Ayurvedic Medicine for Men's Sexual Health: