Description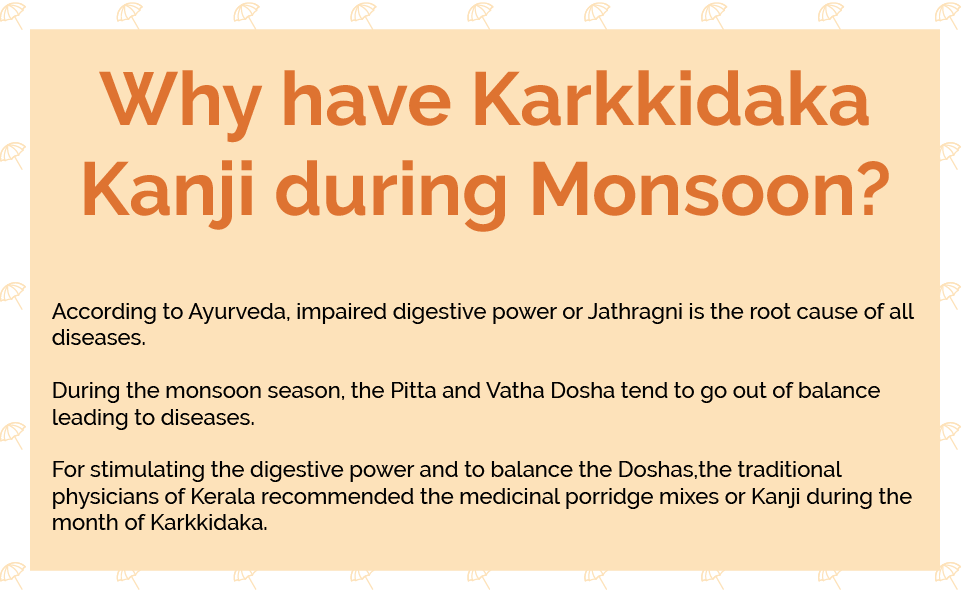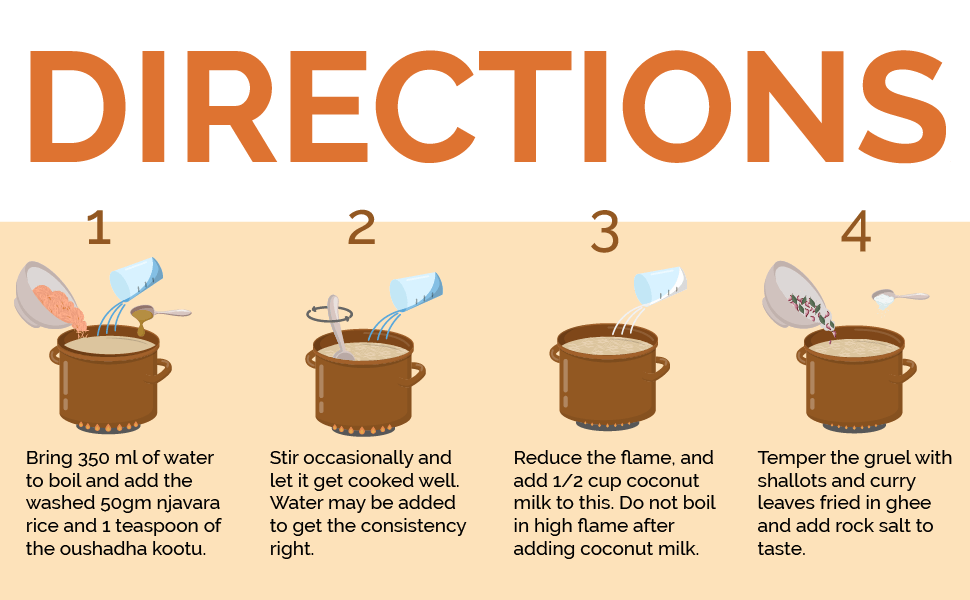 The month of Karkidaka extends from mid-July to mid-August and marks the transition from the hot and humid monsoon to the cooler days of Sarad rtu. The abrupt cooling and humidity brought about by the monsoon after the heat of summer push the Vata to manifest in all its deranged glory. The body is plagued by aches and pains, rigidity, fragility, and weakness; the digestive fire becomes debilitated; the person loses health and vigor.
The systematic consumption of Karkidaka kanji or gruel during this period is a tradition that has stood the test of time. It is basically an easy-to-digest gruel of njavara, enriched with herbs and spices. The kanji is taken as supper or early dinner for a period of 7, 21, or 42 days, as per the convenience of the person. This practice endows the body with excellent immunity and renewed health and vigor.
Karkidaka kanji is a tasty and healthy porridge that is an integral part of ayurvedic cooking and ayurvedic treatment in Kerala during the month of Karkidakam. Consuming Karkidaka kanji after Karkidaka Chikitsa helps to rejuvenate the body and increase energy levels. The benefits of Karkidaka kanji include removal of toxins that may have built up within the body, reduction of fatigue and building of stamina. The Kerala kanji (rice porridge) is an ayurvedic immunity booster and can be consumed by persons of all ages, including pregnant women. The medicinal properties of the kanji helps to lower the bad cholesterol in the body and is also good for persons with diabetes or arthritis.
In olden days, people used to pick out the ingredients (like njavara rice, Ayurvedic herbs, and traditional spices) required for the kanji from their neighbourhood. The Karkidaka Kanjikoottu prepared by Sitaram Ayurveda contains njavara rice and an Oushadakuuttu that cleanses the gut, helps to restore the Vata balance and rejuvenate the body.